Rockfire Resources plc, an exploration company focused on gold and other base metals, announced the maiden JORC resource estimate for its 100% owned Molaoi Zinc Deposit in Greece, which exceeded all expectations including zinc, silver, copper, and molybdenum resources, demonstrating the quality and potential of the project.
This JORC resource estimate uses a 4% low-grade cut with individual elements grading 9.4% zinc, 1.7% lead (Pb), and 47 grams per tonne silver (Ag).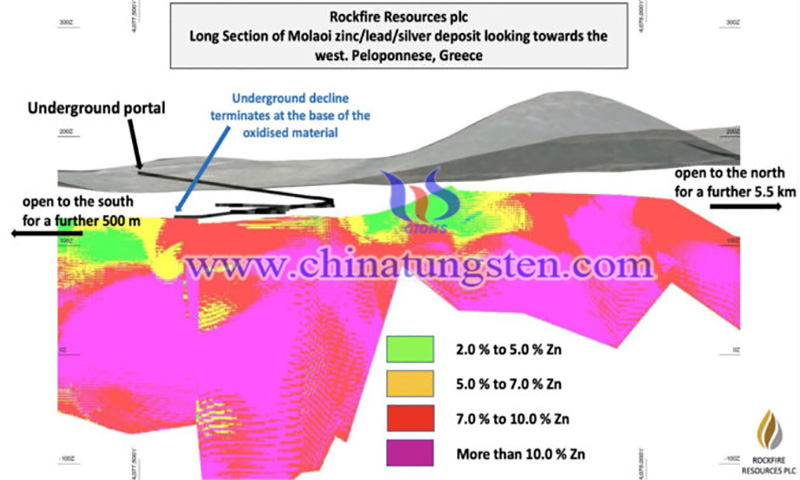 Molaoi currently contains 210,000 tonnes of zinc, 39,000 tonnes of lead, and 3.5 million ounces of silver. With only 1,400 metres of the 7 km potential strike extent included in the resource, the resource remains open at depth and strike. Multiple parallel sections of mineralization not included in the resource are yet to be fully tested. An image of the resource model can be viewed at the link below showing the quality of the zinc intercepts in the parallel pit, which may add materially to the resource in future estimates.
Metallurgical flotation test work completed in 1984 resulted in bulk concentrate recoveries of 96% for zinc, 92% for lead, and 91% for silver. These recoveries have been applied to the mineral resource to calculate the final zinc equivalent tonnage and grade.
Rockfire plans to mine only underground to minimize its social and environmental impact. As mentioned in the Company's RNS dated May 10, 2022, one of the world's key metals, germanium, exists in potential commercial grades. Due to limited quantitative analysis, germanium was not included in the resource estimate. Rockfire plans to conduct resource delineation and extension drilling over the next 12 months.
David Price, Rockfire Resources' Chief Executive Officer, commented: "Our inaugural JORC Resource for Molaoi is a key milestone for Rockfire. Management believes Molaoi is an outstanding base metal project and we expect it to grow to a globally significant scale. The grades and volumes over the first 1,400m strike extent demonstrate the potential scale of Molaoi, particularly if our planned exploration along strike proves successful."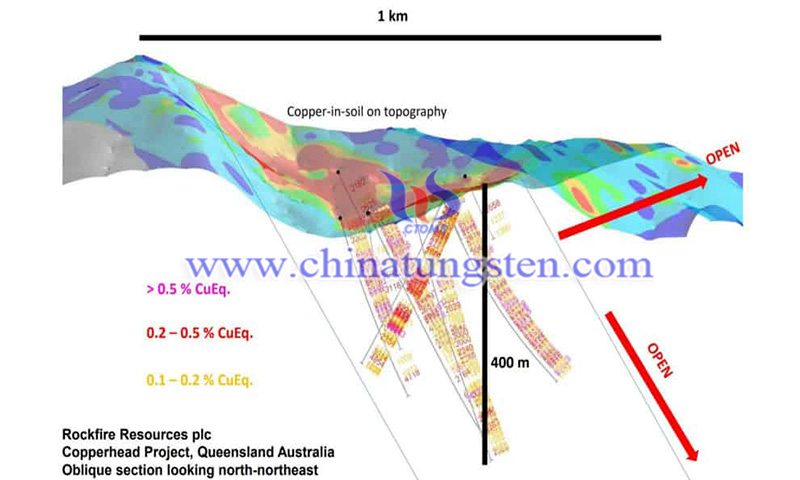 "We intend to test the entire 7 km strike length which, if similar mineralization is present, could yield a much larger resource than the initial exploration resource. Several historical holes drilled along this 5.5-kilometer extension have intersected high-grade zinc."
"We have drilled 173 core-bearing holes at the project and resource delineation and extension drilling can begin quickly as the Greek government has completed most of the initial ground exploration techniques. We are working to obtain the necessary permits to begin drilling at Molaoi as soon as possible."
Rockfire Resources now has significant wholly-owned JORC resources, including Molaoi in Greece, which contains 210,000 tonnes of zinc, 39,000 tonnes of lead, and 3.5 million ounces of silver. Copperhead in Australia includes 80,000 tonnes of copper, 9,400 tonnes of molybdenum, and 1.1 million ounces of silver. Australia's Plateau includes 130,000 ounces of gold and 800,000 ounces of silver.