Analysis of latest tungsten market from Chinatungsten Online
China's domestic tungsten price remained weak adjustment on the whole in the week ended on Friday, May 20, 2022 as market demand continued to fail market expectation.
It still takes a certain period of time from lifting the lockdown of Shanghai to the recovery of production capacity, consumption, transportation, and logistics in various industrial chains; and the mentality of tungsten raw material holders showed different. Some of them were active to make cash-out while others suspended offers temporarily, and took orders cautiously.
In the tungsten concentrate market, the price of high-grade ore consolidates at around $17,384.6/ton. Although buyers counter offers generally ranged at low level, sellers had strong willingness to build a bottom and were reluctant to reduce prices. Market liquidity was low.
In the APT market, spot circulation was mostly on-demand, and insiders had a strong wait-and-see mood. On the one hand, the complex international situation and the epidemic still put pressure on energy supply and the cost of raw and auxiliary materials, but on the other hand, the poor demand had forced the upstream sentiment to be under pressure. The APT consumption since April has been relatively sluggish, and the overall positive news in the market is limited.
In the tungsten powder market, the consumption of cemented carbide ends was still suppressed by the epidemic, and the consumption of alloys in the automotive industry, equipment manufacturing and other fields has not yet fully recovered. Superimposed on the impact of logistics constrain in Jiangsu, Zhejiang and Shanghai, the current sales of tungsten raw materials are still under pressure.
Prices of tungsten products on May 23, 2022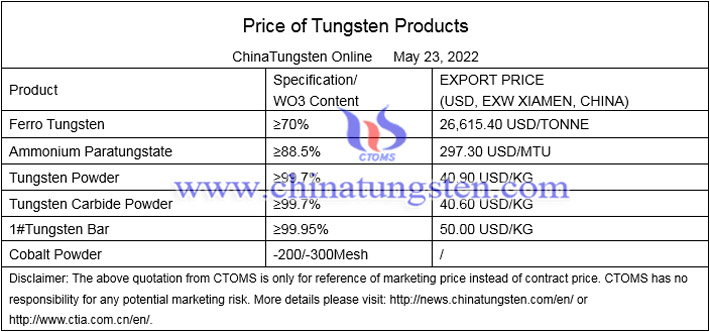 Picture of ammonium paratungstate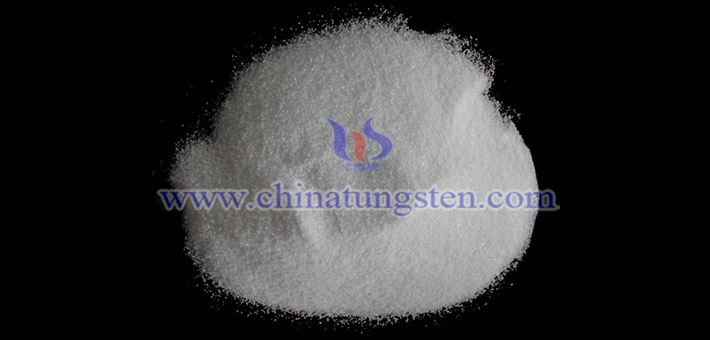 Follow our WeChat to know the latest tungsten price, information and market analysis.