Details

Category: Tungsten's News
Published on

Thursday, 13 January 2022 19:55
Happy Creek Minerals intersects 6.7m of 0.43% WO3, including 1.2 m grading 1.83% WO3 at Nightcrawler Zone, Fox Tungsten Project, British Columbia. The company reported assay results from its 2021 drilling and rock sampling program, located near the community of 100 Mile House in southern British Columbia, which is accessible by road.
A total of 2,052.7 meters was drilled in 12 diamond drill holes. Drilling in 2021 successfully confirmed the continuity of medium to high-grade tungsten skarn (calc-silicate) mineralization in the northern Nightcrawler, Nightcrawler South, and Creek East areas and indicated that these areas can still be extended in several directions. In addition, drilling confirmed the presence of two to six stacked mineralized horizons in the Nightcrawler area.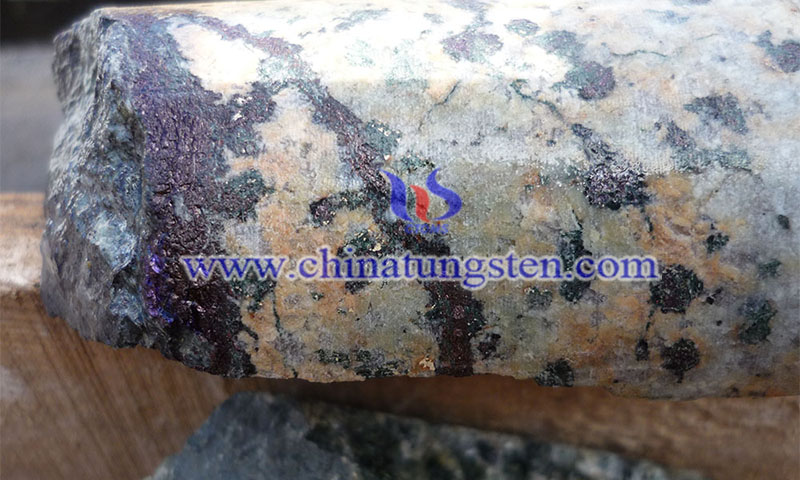 For the Eastern Creek portion of the Nightcrawler-Creek zone, exploration was conducted above a hypothetical surface projection of high-grade mineralization contacted by drill holes in 2020 and 2021. The prospecting intersected approximately 100 meters of tungsten-bearing silica boulders and outcrops of monzonite-alskite.
Under UV light, approximately 75% of the silica boulders in the area were observed to contain scheelite. Grab samples from three boulders yielded 0.57%, 1.19%, and 2.07% scheelite, respectively. This newly discovered boulder zone supports the potential for additional high-grade, near-surface mineralization in the Nightcrawler - Creek zone.
Multiple prospecting has been conducted on the west side of the Fox property in the area of recent and ongoing logging activity. The west side of Fox is extensively covered by till cover, however, a talc boulder was recovered with 3.58% WO3. Large, angular sub-crops and boulders of marble and sillimanite occur at the higher elevations explored in September. Flakes cut from six different boulders produced anomalous tungsten values up to 0.25% WO3. These results suggest the possible presence of tungsten on the west side of Fox.
Tungsten is a rare, heavy, and hard element used mainly in cemented tungsten carbide and high-speed alloy cutting tools as well as other high-tech applications. The metal has been declared a "critical mineral" by governments in Canada, USA, and the EU. Currently, 85% of world production comes from China.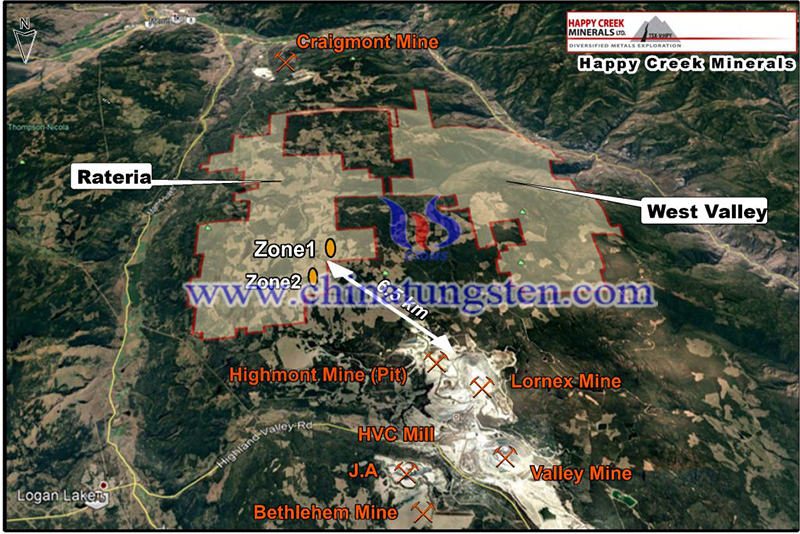 Happy Creek Minerals is focused on the exploration of its 100% owned diversified metals projects in British Columbia, Canada. The company's management, board of directors, and technical advisors have solid expertise in the mineral resource sector and capital markets.
The Fox Tungsten Project is a regional-scale, high-grade, key mineral project that Happy Creek has advanced from the initial discovery phase to the definition phase of drilling. Significant tungsten mineralization has been intersected in the Nightcrawler - Creek, Discovery, and South Grid zones of the project.