Details

Category: Tungsten Audio
Published on

Friday, 29 December 2017 14:18

Hits:

483
Bro Brosdahl was a happy man. He'd been ice fishing the mid-November night before, near his northern Minnesota home. "We've had unusually cold weather," the guide and Northland Tackle representative said of the early start of his hard-water season.
"I don't go out on less than four inches of ice," said Brosdahl, who's a big man, "and I found some four-inch ice." Through it he'd pulled perch, dogfish, northern pike and a largemouth bass, sorting out a half-dozen foot-long perch for the frying pan.
Ice fishing had begun, and that makes Brosdahl beam. I could close my eyes and see his grin, as we chatted by phone about one of ice fishing's newest trends, lures made of tungsten.
Thirty percent heavier than the lead used in traditional ice fishing lures, "tungsten is a really awesome metal for fishing," said Brosdahl. He described tungsten lures as "not so much heavier, but small for their weight," before admitting with a chuckle that those were just two ways of saying the same thing. You get a smaller lure for the same weight, or a heavier lure at the same size.
With tungsten, you can use smaller lures while maintaining sensitive contact with your offering. Or, you can "pound" the bottom to stir up sediment and fishy interest. Lines stay straight, and lures plummet to get back to active schools of fish.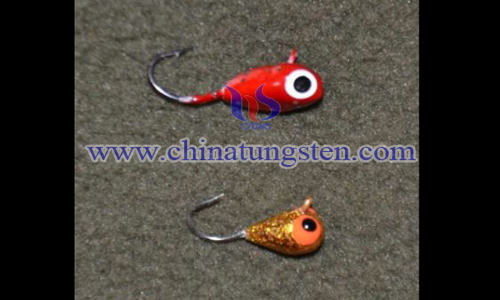 That all matters most in deep water, said Brosdahl. "Shallow, go ahead and use lead," he advised. Lead lures are cheaper to make and buy than tungsten, he said, and are rugged. Super-hard, tungsten is ground into one of a few main lure shapes, then notched with a groove into which a hook is soldered or otherwise affixed.
Many companies add hooks and then metal-plate and/or paint tungsten bodies that they acquire elsewhere. Brosdahl said he particularly likes simple, round tungsten lures, "a mini-Fireball shape. There are times fish don't want an odd shape. A small bait with a bit of plastic or a grub is just right." Tear-drop-shaped lures such as Northland's Mooska are good, too, and Brosdahl has heard good reports about the Sliver Spoon, a slender tungsten bait that works well even at depths of 30 to 80 feet: "it gets down there, and it holds tight," instead of fluttering off to a side. Besides Northland, Fiskas (first on the North American market), VMC, Acme, Custom Jigs & Spins, Lindy, and likely others, offer tungsten lures, noticeably more expensive than lead.
Get rowdy with that tungsten lure, and you might break loose or break its hook, or chip its paint. New hook degorgers are made specifically to remove tungsten-lure hooks from fish delicately.
Yes, several bucks for a single pencil-eraser-sized ice lure seems steep, but you might do well to think of it as an investment, one that could pay off in perch, panfish or other winter catches. "It's difficult to trigger fish (to bite) at different times, and tungsten is one more tool in your bucket," said Brosdahl.