Analysis of latest tungsten market from Chinatungsten Online
The ammonium paratungstate (APT) and tungsten carbide powder prices remain weak adjustment on May 10, 2022 as the weak demand continues to affect the whole market sentiment.
The price of tungsten concentrate is temporarily stable at around $18,709.7/ton, and a small amount of orders in the market are mostly concluded at a low range. Insiders believe that in the process of environmental protection and economic restoration, the tungsten industry will have more opportunities to improve in the future, but the short-term fundamental momentum is insufficient, which will make the market under pressure.
The price of APT is stalemate at around $320.8/mtu. Market purchasing enthusiasm is low, purchasers are seeking for lower prices while manufacturers are willing to make shipments. The whole trading prices are lower than before.
Tungsten powder price is about $44.2/kg when the pressure on the alloy end is still transmitted to the raw material end. The enthusiasm for receiving goods in the field is limited, and the overall purchase and sales is not active.
Prices of tungsten products on May 11, 2022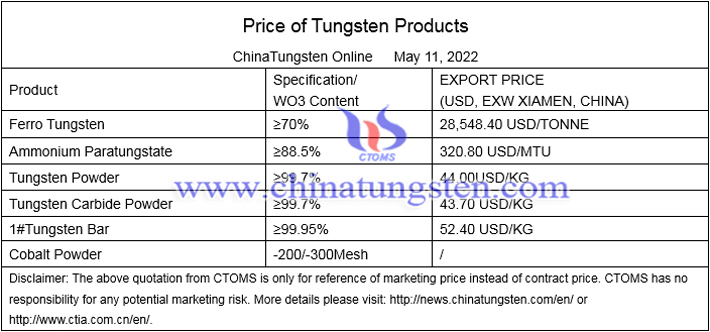 Picture of tungsten ore
Follow our WeChat to know the latest tungsten price, information and market analysis.