Details

Category: Tungsten's News
Published on

Wednesday, 13 January 2021 21:38
The year-end 2020 market capitalization for the rare earths companies shows that the top 5 rare earths companies for 2021 are Lynas Rare Earths, MP Materials, Australian Strategic Materials, Neo Performance Materials, and Energy Fuels Inc respectively, according to Investorintel.com website report. Lynas Rare Earths, and Iluka Resources Limited accounted for almost CAD$13 billion value.
MP Materials is the No.1 company of the top 5 rare earths companies for 2021. The company is a recent return of the Mountain Pass rare earths mine to space. The only rare earths mine in the US was recommissioned in 2017 after a storied history of corporate intrigue and insolvency. However, as MP Materials is one beneficiary of the US Government's determination to create a strategic critical metals reserve and MP Materials is in the game. A significant knock on the Mountain Pass mine however is that it produces none of the heavy rare earths, which are so critical for all of our technology nowadays. The company is currently sending its' production to China for processing.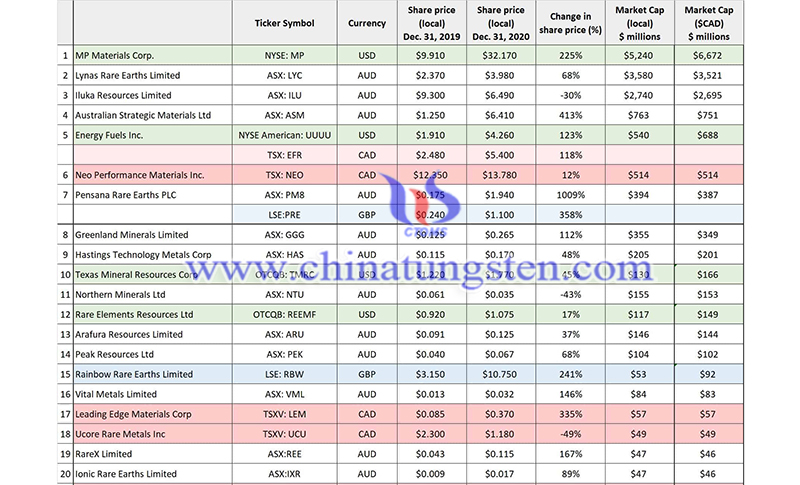 Lynas is the only company in the world that has rare earth processing capacity that is not located in China. Other companies are looking at significant investments to build more global processing capacity, but this will take plenty of time and money, and ore supplies that are currently under contract to be processed in China. Noting this problem, Lynas has announced the construction of additional rare earths processing center in western Australia. Note that all of the processing capacity is currently located in Malaysia. Recall the issues that Lynas had before the facility was fully commissioned.
Australian Strategic Materials Limited (ASM) created by a corporate demerger completed in July 2020, ASM came out of Alkane Resources as the company's directors sought to unlock shareholder value in the then-combined gold/rare earths company. Recent milestones of the company include successfully producing a neodymium iron boron (NdFeB) alloy from a ferro-neodymium (FeNd) permanent magnet alloy. ASM is moving along a well-planned timeline to have the Dubbo rare earths mine in production in later 2023, including project financing which is expected to be concluded around mid of 2021.
Neo Performance Materials (Neo) is undertaking a lot of things, including the only other rare earths processing facility that is not in China (located in Estonia). In addition, the company has 11 manufacturing facilities and is a world leader in innovation and the production of permanent magnet powders, through its Magnaquench business unit. Neo has also been touted as a takeover target for MP Materials, as several Neo assets were once part of Molycorp, but with Neo's prospects, it is likely that the shareholder base would demand a massive premium to approve that transaction.
According to the Investorintel.com website, the number 5 company of the top 5 rare earths companies for 2021 is Energy Fuels Inc. Energy Fuels is engaged with a number of leading rare earths industry experts across a broad spectrum to advise the company on the rare earths segments including a technical agreement with Neo Performance Materials, a US Department of Energy contract, along with Penn State University for the recovery of rare earths from coal. The company is also working with noted rare earths industry experts.