Details

Category: Tungsten's News
Published on

Monday, 20 November 2023 18:35
Analysis of latest tungsten market from Chinatungsten Online
China tungsten price remained stable in the week ended on Friday, November 17, 2023, with weak tone in downstream terminal consumption. The market's trading performance is stagnant, but thanks to strong support from the mining side, there is less willingness to offer discounts.
The price of tungsten concentrates is holding at around $17,142.9/ton, with a bullish sentiment prevailing in the market. Scarce low-level resources and difficulty in concluding deals at higher prices contribute to a standoff in overall trading negotiations, awaiting entry of downstream consumption.
Ammonium paratungstate (APT) price is consolidating around $287.3/mtu, with a cautious and watchful atmosphere prevailing in the market. There is a divergence in confidence between the upstream and downstream of the industrial chain, creating significant pressure from the overall overhang. Constraints on the demand side still exist, but due to the resilient performance on the cost side, there is a slight increase in companies' expectations of a rise.
Tungsten powder price is stagnant at around $38.3/kg, with traders managing operations in a temporarily stable manner. Negotiations for backend deliveries are still prevalent, and the market sentiment is unstable. As the sales status of hard alloys and downstream products has not seen a significant improvement, and the focus on actual transactions has relatively eased.
The price of 70% ferro tungsten is consolidating around $24,857.1/ton, with the market's basic situation remaining unchanged. The lukewarm situation in downstream sectors such as steel mills put some pressure on the market. Purchasers are cautiously replenishing stocks according to demand, and the overall trading activity is moderate.
The scrap tungsten market continues its stagnant trend, with the relatively sluggish state in the alloy sector affecting market confidence. However, holders are generally reluctant to sell, maintaining a stable bullish attitude, and market negotiations are temporarily stable as participants adopt a wait-and-see approach.
Prices of tungsten products on November 20, 2023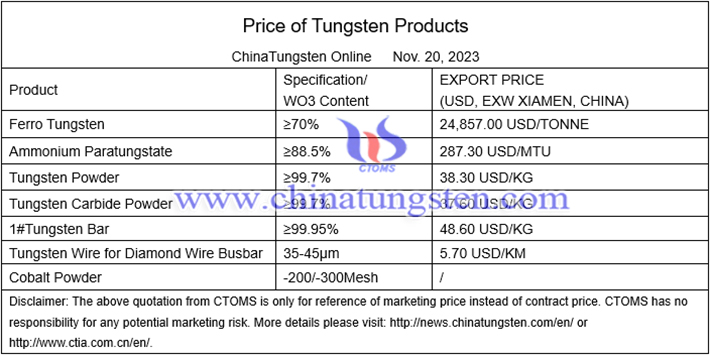 Picture of tungsten acid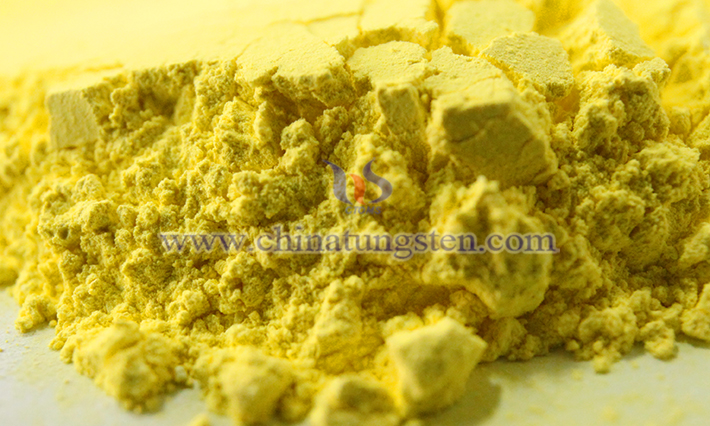 Follow our WeChat to know the latest tungsten price, information and market analysis.