Details

Category: Tungsten's News
Published on

Monday, 13 November 2023 16:00
Analysis of latest tungsten market from Chinatungsten Online
The overall tungsten price in China has shown a relatively weak trend in the week ended on Friday, November 10, 2023 mainly due to the lack of progress in the consumer market.
The downward adjustment of guidance prices by the Ganzhou Tungsten Association (GTA) and large tungsten enterprises in the new round has affected the mentality of traders. Additionally, the numerous unstable external factors have put pressure on the tungsten market, disrupting overall trading conditions. The primary bottom support for the market still comes from the firm attitude of the mining end, but actual single transactions are stagnant.
The price of tungsten concentrates is basically maintained at around $17,000.0/ton. Some mining companies, despite holding firm offers, find it difficult to gain recognition from downstream users. Negotiations between purchasers and suppliers are challenging, and on-site trading is mainly demand-driven, with limited resource circulation.
APT prices are consolidating around $287.3/mtu. The market focus mainly refers to the long-term quotations of several representative enterprises. Negotiations by traders are generally mediocre, and manufacturers are primarily in a risk-averse mood. Both market resource and demand are limited.
Tungsten powder prices are stagnant at around $38.3/kg. The purchasing enthusiasm of end users such as backend hard alloy is not high. External economic risks and internal dynamic resistance inhibit industry recovery. The powder market has been weak and stable recently, with few new orders.
In the scrap tungsten market, the relatively sluggish performance of the alloy end suppresses the operation of the scrap tungsten industry. On-site trading is cautious, and there is some difference in confidence among merchants about the future market. The overall market is currently stable, adopting a wait-and-see approach.
Prices of tungsten products on November 13, 2023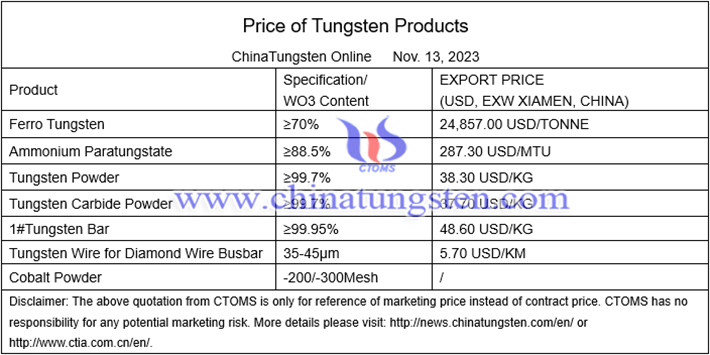 Picture of tungsten putty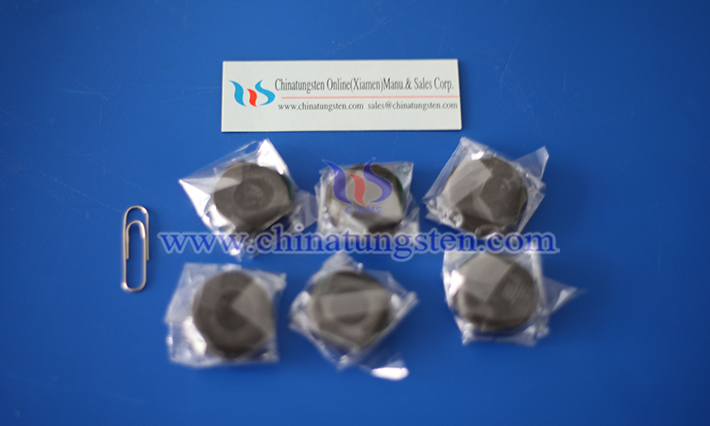 Follow our WeChat to know the latest tungsten price, information and market analysis.