At the beginning of the week, China rare earth market showed a weak supply and demand situation, mainly due to the increased difficulty of rare earth mining enterprises, the reduction of domestic and foreign market demand, and the low enthusiasm of traders to enter the market.
However, after the long-term decline in the price of rare earth raw materials in the early stage and the support of production costs, many suppliers have increased their awareness of profit, which has prompted the price of praseodymium, neodymium, dysprosium and terbium to stop falling and stabilize.
In terms of news: Northern Rare Earth released the 2022 semi-annual performance report, the total operating income from January to June 2022 was 20,149,745,600 yuan, a year-on-year increase of 36.88%; the net profit attributable to the parent was 3,097,676,900 yuan, a year-on-year increase of 52.16%; basic earnings per share The total assets at the end of the reporting period were RMB 34,913,709,400, an increase of 0.59% over the beginning of the reporting period.
Prices of rare earth products on July 25, 2022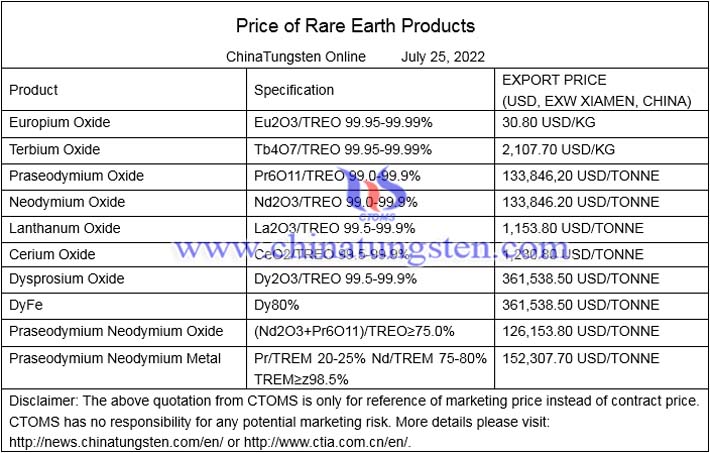 Picture of europium oxide
Follow our WeChat to know the latest tungsten price, information and market analysis.