Details

Category: Tungsten's News
Published on

Wednesday, 07 April 2021 22:00
Investment in 31 crucial minerals such as tungsten, molybdenum and rare earths in Canada requires national security review. The government recently issued the 'Guidelines on the National Security Review of Investments', which mentions that the acquisitions involving the control of key minerals, the acquisition of companies specializing in sensitive personal data businesses, and the proposed investment involving state-owned or government-influenced investors, as well as initiating National security review.
The Government has developed 31 minerals considered critical for the sustainable economic success and the allies and to position Canada as the leading mining nation, as set out in the Canadian Minerals and Metals Plan (CMMP). The country has a long history of producing many of these minerals, and has the potential to produce more.
The guide proposes 31 key minerals with potential strategic significance that require national security review, including aluminum, antimony, bismuth, cesium, chromium, cobalt, copper, fluorspar, gallium, germanium, graphite, helium, indium, lithium, magnesium, manganese, molybdenum, nickel, niobium, platinum group metals, potash, rare earth elements, scandium, tantalum, tellurium, tin, titanium, tungsten, uranium, vanadium, zinc.
Tungsten, molybdenum, and rare earths resources are significant strategic reserve resources, occupying an indispensable and important position in high-precision fields such as national defense and military industry, optoelectronic information, and biomedicine. Canada is a vast country with abundant mineral resources. By the end of 2020, it has 96,000 metric tons of molybdenum resources and 830,000 tons of rare earth resources. The country also has several large tungsten deposits outside of China, including those located in New Brunswick. The Sisson mine in the central part of the province and the Mactung mine and Cantung mine.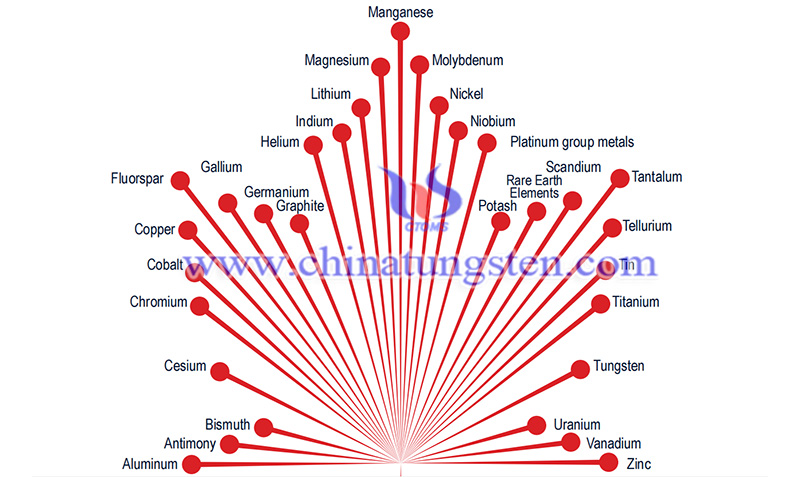 The guide lists 15 sensitive technical areas for investment that require national security review, including advanced materials and manufacturing, advanced marine technology, advanced sensing and monitoring, advanced weapons, aerospace, artificial intelligence, biotechnology, energy production, storage and transmission, Medical technology, neurotechnology and human-machine integration, next-generation computing and digital infrastructure, position navigation and timing, quantum science, robotics and autonomous systems, aviation technology.
Canada's guide enumerates factors related to national security and emphasizes, and the investment in tungsten, molybdenum and rare earths requires security review. The list can be updated regularly according to the development of technology, the application of military intelligence technology and the needs of national security.