Details

Category: Tungsten's News
Published on

Thursday, 31 December 2020 09:29
Rare earth market quotation in China: neodymium oxide, cerium oxide and praseodymium neodymium oxide prices edge higher on December 30, 2020. Now it is a sellers' market. Although actual transactions are not ideal, the holders have no obvious sales pressure and still maintain a firm offer.
From the perspective of positive factors, first, under the situation that the original inventory of many products is not very large, with the strengthening of environmental protection and the increasingly harsh climate environment, rare earth mining companies have difficulty in mining, which will help traders to raise prices; second, the downstream emerging markets such as new energy vehicles, wind power equipment, 5G electronic products and other future development space will have greater impact, and the amount of rare earths used by magnetic companies will also increase, thereby increasing the market's trading activity.
From the perspective of negative factors, first, the global economy is still sluggish, which will hinder the heating rate of the rare earth market to a certain extent; second, as the price of rare earth products rises, consumers' fear of heights has also increased, resulting in low trading.
Prices of rare earth products on December 30, 2020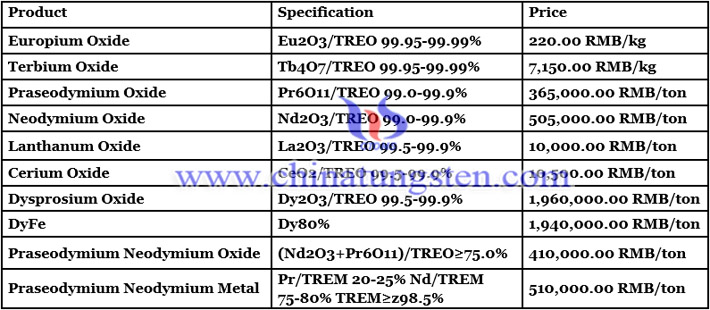 Picture of neodymium oxide
Follow our WeChat to know the latest tungsten price, information and market analysis.