Details

Category: Tungsten's News
Published on

Friday, 10 November 2023 17:09
China rare earth market is relatively weak in the week ended on Friday, November 10, 2023. However, influenced by various uncertainties, the price trends of praseodymium and neodymium differ slightly from those of dysprosium and terbium.
The price trend of praseodymium and neodymium is relatively stable, while the trend of dysprosium and terbium prices has slightly declined. This is mainly due to weak market demand and a relatively high supply of spot goods.
According to Chinatungsten Online, the current price of praseodymium and neodymium oxide has increased by about 1,000 yuan per ton compared to last week, with an increase of 0.19%. The price of terbium oxide has decreased by about 100 yuan per kilogram, with a decrease of 1.23%. The price of dysprosium oxide has decreased by about 40,000 yuan per ton, with a decrease of 1.50%. However, the prices of praseodymium and neodymium metal, neodymium iron boron blanks, and their waste materials remain unchanged from last week.
However, to avoid the risk of cost inversion, some rare earth manufacturers have slowed down production. In October 2023, the output of terbium oxide and dysprosium oxide in China both showed a certain degree of decline compared to the previous month, with decreases of approximately 2.43% and 0.51%, respectively. In addition, due to the continuous release of cost support and favorable news, suppliers generally have a reduced willingness to lower prices.
In terms of news, according to the official website of the Development and Reform Commission of Jiangxi Province, in October 2023, the average selling prices per ton of high-yttrium oxide (rare earth) and middle-yttrium europium compound (rare earth) in Ganzhou were 310,000 yuan and 250,000 yuan, respectively. This represents a slight increase of 1.64% and a decrease of 3.85% compared to the previous month, and a year-on-year decrease of 18.42% and 19.35%, respectively. The average selling price per ton of Ganzhou tungsten concentrate was 120,000 yuan, which remained unchanged from the previous month, with a year-on-year increase of 4.35%.
Prices of rare earth products on November 10, 2023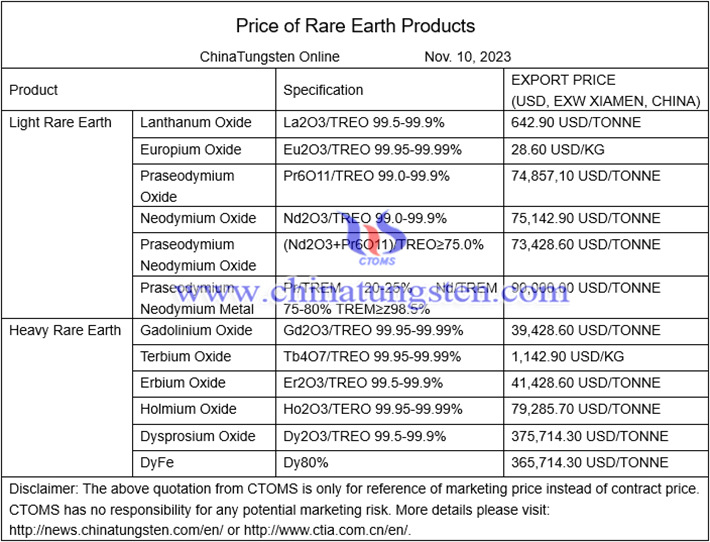 Picture of neodymium oxide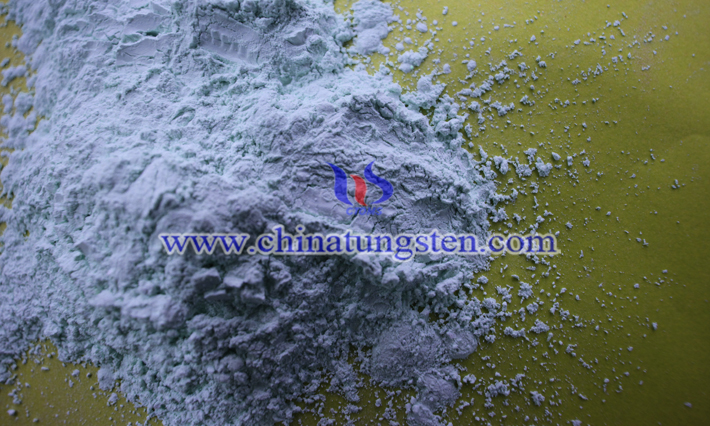 Follow our WeChat to know the latest tungsten price, information and market analysis.