Details

Category: Tungsten's News
Published on

Wednesday, 03 August 2022 17:49
Analysis of latest tungsten market from Chinatungsten Online
The domestic tungsten price was relatively strong at the beginning of the month, mainly due to the support of the upstream market in the industrial chain, and the industry's expectations of industrial consumption under the background of domestic economic recovery have warmed up. However, during the overseas summer break, the actual consumption of downstream terminals has not yet rebounded significantly, and the purchasing sentiment is still cautious.
China's Xiamen Tungsten quoted APT bid price for the first half of August at $299.1/mtu, an increase of $8.7/mtu compared with the second half of July.
In the tungsten concentrate market, the release of resources is limited. On the one hand, due to the recent high temperature and rainy weather, both market production and consumption are weak; on the other hand, due to the impact of domestic environmental protection and safety requirements and the input of high global inflation pressures, holders are mainly sentimental about the market, and their willingness to cut profits and sell goods is not high. Recently, the intentional price of tungsten concentrate has returned to $17,692.3/ton with high pressure of transactions in the off season.
In the APT market, the cost-side support is relatively positive, which affects the increase of smelting manufacturers' intention to support the market. Some offers hit the level of $304.2/mtu with limited trading activity. The downstream terminal of the industry chain is still cautious in receiving goods.
The tungsten powder market is also driven by the cost side, and powder merchants made offers to $40.0/kg. Before the stabilization of price trend, downstream cemented carbide and its product enterprises are expected to take a watchful stance in the off season.
Prices of tungsten products on August 3, 2022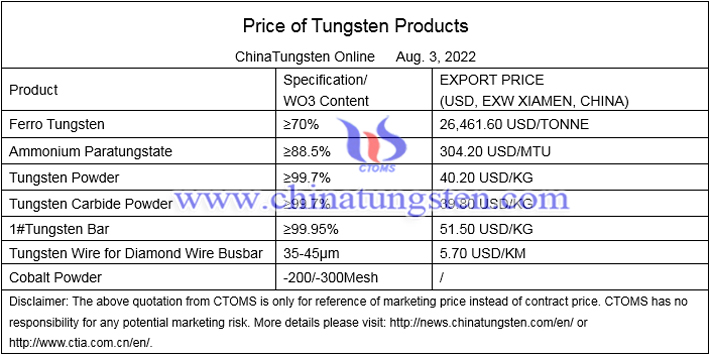 Picture of stranded tungsten wire
Follow our WeChat to know the latest tungsten price, information and market analysis.