Analysis of latest tungsten market from Chinatungsten Online
The tungsten powder and ammonium paratungstate (APT) prices are unchanged from the previous trading day due in part to the cautious sentient of market participants.
In general, the industry has good expectations for the recovery of the domestic consumer market. After the trough in the second quarter, infrastructure, real estate, automobiles and other industries are in a stable recovery cycle; however, there are many uncertain risk factors in the international market, including the epidemic, Russia-Ukraine conflict, inflation, energy shortages, tightening financial conditions and other unstable events continued to dampen market consumer confidence. In addition, the supply and demand sides are both weak recently, and thus the whole market keeps quiet.
In the tungsten concentrate market, holders are reluctant to sell and try to stabilize the market. Considering the environmental protection, lower resource grades, and high expectations for the value of strategic resources, miners are not willing to cut their profits. Recently, there has been a slight increase in the offer, and the implementation is limited in terms of transaction volume.
In the APT market, high cost supports the stabilization of APT price. After the profit was squeezed in the early stage, the market has a strong willingness to bottom out and rebound recently. However, the activity of downstream terminal customers' inquiries is still limited, the market transaction volume is limited, and there is no market.
In the tungsten powder market, some powder companies have stabilized the market and made a slight increase in their offers. However, the overall consumption of cemented carbide and its downstream industries is still tepid. The market is mainly sorted in a narrow range, and the directional news need to be further clarified.
Prices of tungsten products on July 29, 2022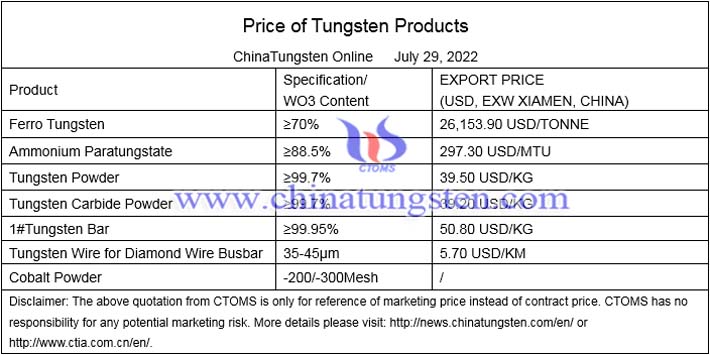 Picture of tungsten product prices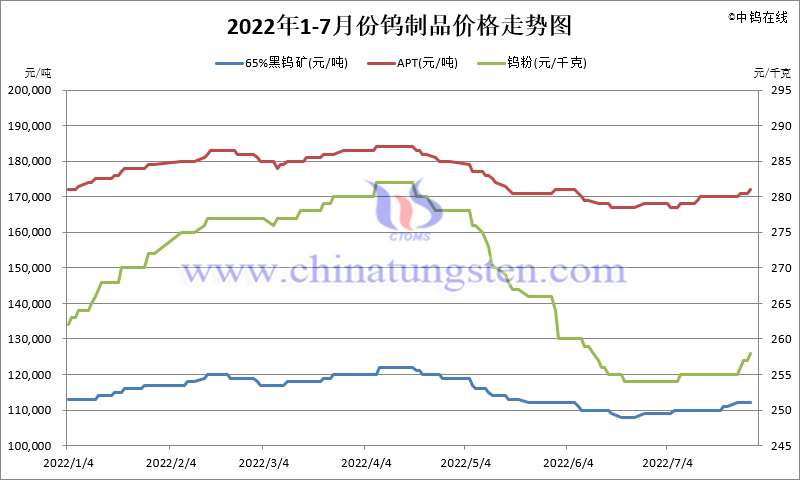 Follow our WeChat to know the latest tungsten price, information and market analysis.