Details

Category: Tungsten's News
Published on

Wednesday, 27 July 2022 17:48
Analysis of latest tungsten market from Chinatungsten Online
China's ammonium paratungstate (APT), tungsten powder and tungsten carbide powder prices are in the upward trend on July 26, 2022. Affected by environmental protection and high inflation, production costs increase and sellers have strong rised mentality.
However, under the sluggish overseas economy, the overall consumption of the manufacturing industry is still difficult to improve, the tungsten market is trading at a stalemate at a high level, and the flow of spot resources is still dominated by rigid demand.
XiangLu Tungsten released its long-term contract prices for the second half of July: 55% black tungsten concentrate price was $16,846.2/ton, up $230.8/ton; 55% scheelite concentrate price was $16,692.3/ton, up $230.8/ton; APT price was $295.5/mtu, an increase of $3.5/mtu compared with the first half of this month.
The latest report from S&P Global shows that in July, the initial value of the U.S. composite PMI fell to 47.5, the lowest since May 2020; the initial value of the service PMI fell to 47.0; the initial value of the manufacturing PMI fell to 52.3, falling to July 2020 lowest since. The euro zone's preliminary composite PMI fell to 49.4 in July from 52.0 in June, and the preliminary manufacturing PMI fell to 49.6, the lowest in 25 months. The preliminary services PMI fell to 50.6, the lowest in 15 months. The figures suggest the manufacturing sector is beset by rising prices, higher interest rates and inflationary pressures.
Prices of tungsten products on July 27, 2022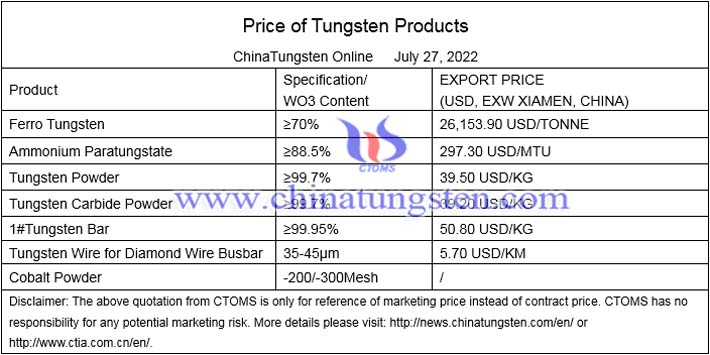 Picture of tungsten trioxide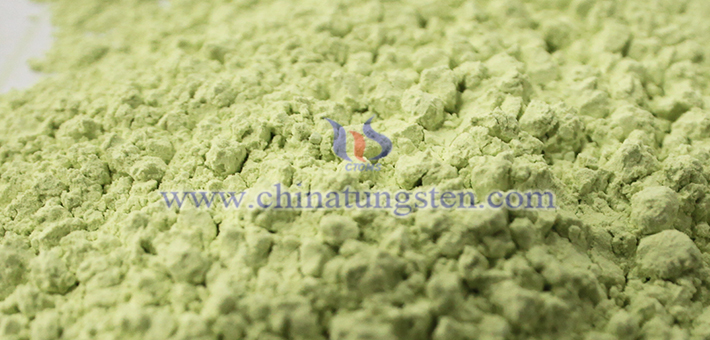 Follow our WeChat to know the latest tungsten price, information and market analysis.