Details

Category: Tungsten's News
Published on

Wednesday, 27 July 2022 17:47
Rare earth market quotation in China: praseodymium neodymium oxide and metal prices edge higher while lanthanum oxide price is unchanged on July 27, 2022.
However, due to the negative atmosphere in the market, transactions are still scarce and the price of rare earth raw materials is difficult to rise sharply.
According to Chinatungsten Online, the main reasons for the increase in supplier quotations are: under the influence of frequent high-temperature rainstorms and strong environmental protection efforts, the production capacity of domestic rare earth smelting and separation enterprises is limited; The import of ore is restricted; the price of praseodymium, neodymium, dysprosium and terbium products fell sharply in the early stage, which forced the owners to increase their awareness of profit.
News: From January to June, the output of rare earth magnetic materials in Inner Mongolia Autonomous Region increased by 34.6%. During the same period, the added value of the rare earth industry in Baotou increased by 48%, the output of single rare earth metals increased by 75.1%, and the output of rare earth compounds was 47,700 tons, an increase of 19.1%.
Prices of rare earth products on July 27, 2022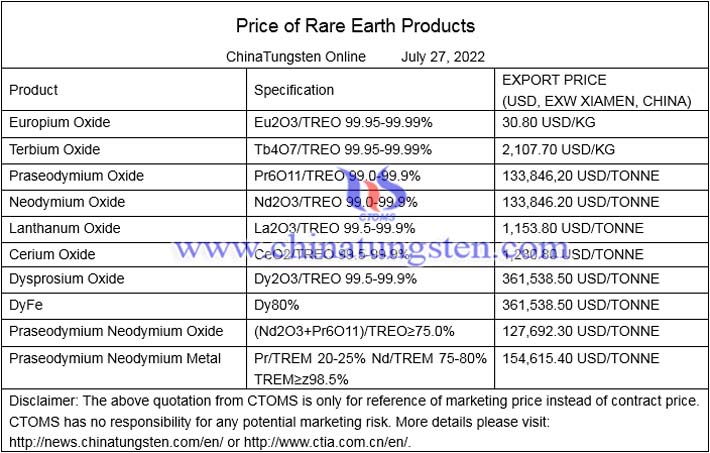 Picture of lanthanum oxide
Follow our WeChat to know the latest tungsten price, information and market analysis.