Details

Category: Tungsten's News
Published on

Wednesday, 15 June 2022 10:17
Analysis of latest tungsten market from Chinatungsten Online
China's domestic tungsten price kept weak adjustment in the week ended on Friday, June 10, 2022 mainly affected by the slow recovery in the demand side as well as the decline in new guide prices from state-owned tungsten companies.
Many insiders expected that the consumption of metal raw materials will gradually increase driven by the resumption of work and production in June. However, the tungsten market is still facing great challenges caused by factors such as the epidemic and geographical conflicts, and has recently been affected by the negative resonance of the cobalt market. The production and sales performance of cemented carbide ends in the main downstream areas of tungsten has been significantly suppressed. The downside of the industrial chain is not only reflected in the spot purchase volume, but also reflected in the actual transactions.
Based on the gradual implementation of a package of measures to stabilize the economy in various provinces and cities in China in the second half of the year, including policy adjustments in fiscal and taxation, monetary finance, infrastructure investment, energy security, supply chain stability and other aspects, it will be conducive to the development of consumption of tungsten products. The economy of the tungsten industry is running steadily. Therefore, excluding the impact of unstable factors such as repeated epidemics and geographical conflicts, the industry has good expectations for the future of the tungsten market, and China has always responded positively to those uncertain factors.
According to data from the General Administration of Customs, the total value of China's imports and exports in May was 3.45 trillion yuan, a year-on-year increase of 9.6%. Among them, the export was 1.98 trillion yuan, an increase of 15.3%; the import was 1.47 trillion yuan, an increase of 2.8%; the trade surplus was 502.89 billion yuan, an increase of 79.1%. From January to May, the total value of imports and exports was 16.04 trillion yuan, a year-on-year increase of 8.3%. Among them, exports were 8.94 trillion yuan, an increase of 11.4% year-on-year; imports were 7.1 trillion yuan, an increase of 4.7% year-on-year; trade surplus was 1.84 trillion yuan, an increase of 47.6%. ASEAN, the European Union, the United States and South Korea are China's top four trading partners.
Prices of tungsten products on June 13, 2022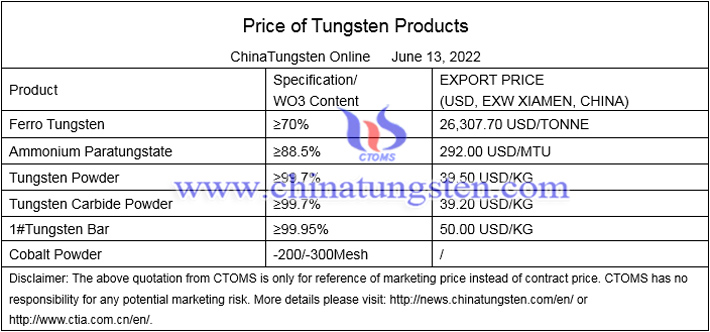 Picture of tungsten carbide rod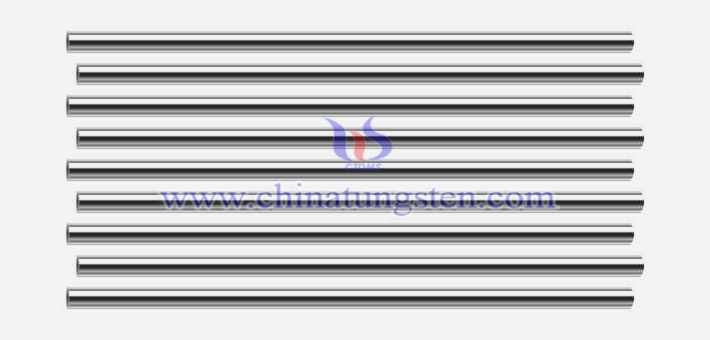 Follow our WeChat to know the latest tungsten price, information and market analysis.