Details

Category: Tungsten's News
Published on

Tuesday, 11 January 2022 18:40
Analysis of latest tungsten market from Chinatungsten Online
At the beginning of the week, China's domestic tungsten price showed a steady trend as the global energy supply problem caused by the epidemic and emergencies continued.
In addition, under monetary measures stimulated the economy and carbon neutrality and stricter environmental protection requirements, the overall cost is high and manufactures tend to keep firm offers.
In the tungsten concentrate market, the production capacity of raw materials has been tightened at the end of the year. Although the pressure on the demand side is still obvious, the tungsten price expectations of the industry are generally positive in the context of medium and long-term economic stimulus, cost support and increasing resource scarcity. Concentra price now hovers around $17,936.5/ton.
The APT market remains cautious sentiment on the whole. On the one hand, due to the reduced operating rate of smelting enterprises and the impact of superimposed cost pressure, manufacturers' offers are still partially rising; on the other hand, due to the tightening of market funds at the end of the year, the performance of domestic consumption has weakened, and the buyer's intention to take the initiative to receive goods is not strong. The short-term APT price is stalemate at around 312.1/mtu.
In the tungsten powder market, the overall performance of smelting enterprises is cautiously consolidating or passively following up slightly, and the enthusiasm for market purchases and sales is low. The news of product price increase has boosted the sentiment of the raw material market to a certain extent, and the short-term price of tungsten powder has been stood at about $41.9/kg.
Prices of tungsten products on January 11, 2022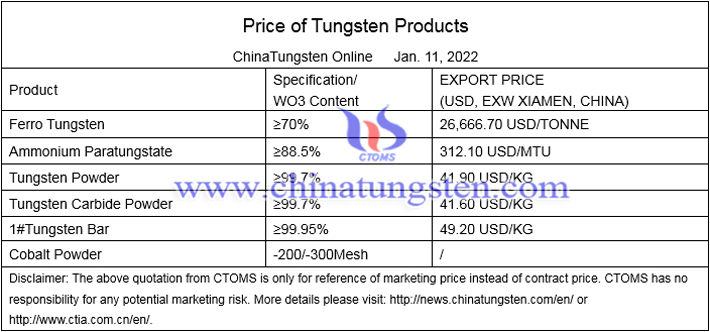 Picture of tungsten trioxide
Follow our WeChat to know the latest tungsten price, information and market analysis.