Details

Category: Tungsten's News
Published on

Monday, 22 November 2021 17:22
Rare earth market quotation in China: praseodymium oxide, dysprosium oxide and praseodymium neodymium metal prices edge lower on November 17, 2021.
In the early stage, supported by the shortage of raw materials, increasing demand, and the continuous emergence of favorable policies, suppliers' quotations increased sharply, but this severely reduced the profitability of downstream companies. Therefore, in order to avoid the risk of cost inversion, consumers are not willing to pay for high-price resources.
In the light rare earth market, transactions were limtied. When downstream users were hesitant to purchase, the price of neodymium praseodymium was greatly hindered from rising again. However, due to the lack of raw material stocks and the favorable development prospects of downstream industries, suppliers offered substantial quotations. The probability of downward adjustment is also small.
In the medium and heavy rare earth market, the price of dysprosium and terbium products has declined significantly, and the transaction volume is limited, which is mainly due to the poor enthusiasm of consumers to receive goods and the rapid increase in the price of dysprosium and terbium in the early period.
In the news: In October, the value-added of industrial enterprises above designated size increased by 3.5% year-on-year in real terms, and the growth rate increased by 0.4 percentage points from the previous month; the total retail sales of consumer goods was 4,045.4 billion yuan, an increase of 4.9% year-on-year; the national urban survey unemployment rate was 4.9%, and It was flat last month.
Prices of rare earth products on November 17, 2021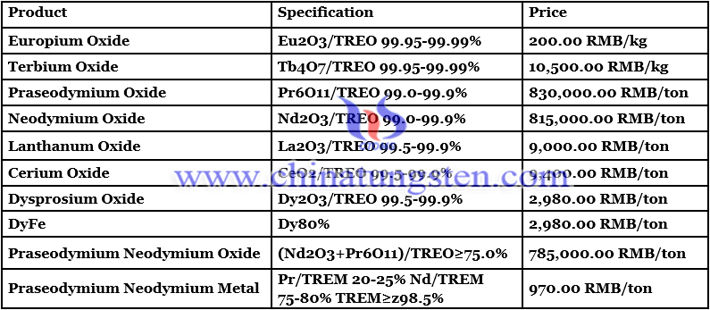 Picture of neodymium oxide
Follow our WeChat to know the latest tungsten price, information and market analysis.