Details

Category: Tungsten's News
Published on

Sunday, 18 October 2020 19:54
The iPhone 12 is the first smartphone with 100 percent recycled rare earth elements in all magnets and 100 percent recycled tungsten in the Taptic Engine. The energy is 53% less consumed than the U.S. Department of Energy requirements. Apple Inc. is committed to transitioning its entire manufacturing supply chain to 100 percent renewable electricity by 2030.
The company stated that they are taking responsibility for their products at every stage and taking responsibility for products throughout their life cycles - including the materials they are made of, the people who assemble them, and how they are recycled at end of life. And the company focus on the areas where they can make the biggest difference for our planet: reducing our impact on climate change, conserving important resources, and using safer materials. They sell millions of products. So making even small adjustments can have a meaningful impact.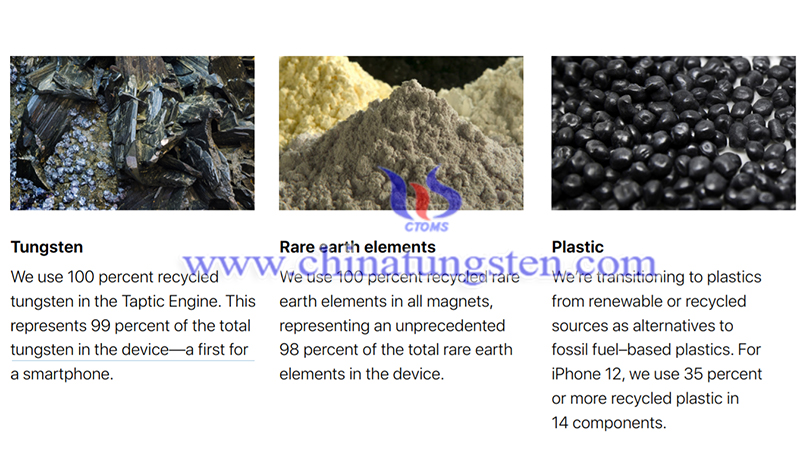 Apple continues to make progress in reducing Apple's contribution to climate change - by focusing on making energy-efficient products with renewable or recycled materials and with renewable energy. Suppliers' use of renewable energy through our Supplier Clean Energy Program and removal of select inbox accessories helped reduce emissions from production and transport of the iPhone 12.
The company continues to use low-carbon aluminum in the enclosure smelted using hydroelectricity rather than fossil fuels. Overall, with the inclusion of next-generation 5G technology, the iPhone 12 carbon footprint is about the same as the previous generation.4 Apple is committed to using carbon life cycle assessments to identify opportunities to drive down product greenhouse gas emissions
Source Materials iPhone 12 is the first Apple product made with recycled tungsten, and the first with majority recycled rare earth elements. To conserve important resources, Apple work to reduce the material we use and aim to one day source only recycled or renewable materials in products. They remain committed to the responsible sourcing of primary materials. The company maps many materials, some to the mineral source, and establish the strictest standards for smelters and refiners.
By removing select inbox accessories across all of iPhone12 and 12 Pro models, Apple anticipates avoiding the equivalent of mining more than 600,000 metric tons of copper, zinc, and tin ore.5
Apple uses 100 percent recycled tungsten in the Taptic Engine. This represents 99 percent of the total tungsten in the device - a first for a smartphone. The company uses 100 percent recycled rare earth elements in all magnets, representing an unprecedented 98 percent of the total rare earth elements in the device.
Besides tungsten and rare earth, iPhone 12 is free of harmful substances like beryllium, brominated flame retardants, PVC, phthalates, arsenic in the display glass, and mercury.1 And 100 percent of the materials in the new iPhones are covered by our Regulated Substances Specification.