Details

Category: Tungsten's News
Published on

Sunday, 18 October 2020 19:51
Apple has released 5G iPhones. Apple considers reducing the use of rare earths in peripheral equipment, supporting millimeter-wave frequency bands and bright applications of LiDAR technology. The iPhone 12 and iPhone 12 mini are Apple's mainstream flagship iPhones for 2020. The phones come in 6.1-inch and 5.4-inch sizes with identical features, including support for faster 5G cellular networks, OLED displays, improved cameras, and Apple's latest A14 chip, all in a completely refreshed design.
Apple on October 13, 2020 introduced its newest flagship iPhones, the iPhone12 and iPhone12 mini, which offer powerful features at an affordable price tag. Sold alongside the more expensive iPhone12 Pro and iPhone12 Pro Max, the iPhone12 and 12 mini are ideal for anyone who doesn't need Pro camera features.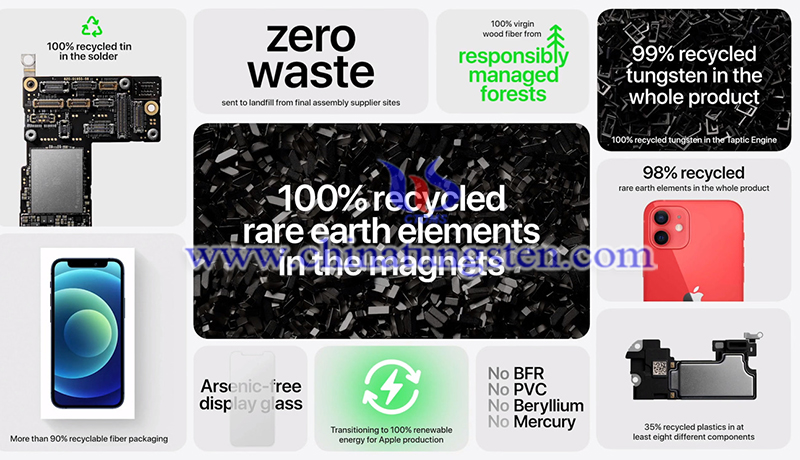 In the peripheral equipment part, the foreign technology website MacRumors analyzed that as expected, the new iPhone 12 series was not sold with earphones and power adapters, only with the Lightning to USB-C cable. In addition to reducing carbon emissions, it also reduces the use of rare earths.
Apple pointed out on its official website that the 5G version of the iPhone uses 100% recycled rare earth elements in its wireless charging magnet materials, accounting for 98% of the total rare earth element content in the device.
In terms of supporting the 5G frequency band, MacRumors pointed out that the new iPhone models that support the millimeter wave (mmWave) frequency band are only sold in the US market; in other countries, the new iPhone supports the sub-6GHz frequency band.
The foreign website The Verge quoted that on the side of the new iPhone that supports the millimeter wave frequency band, there is an obvious side groove design. This may be a window that supports the millimeter wave antenna, allowing users to see clearly and avoid hand contact to achieve the effect of signal transmission optimization.
In terms of the application of LiDAR technology, both the 5G iPhone 12 Pro and 12 Pro Max are equipped with LiDAR sensing components. By measuring the time required for the beam to turn back from the object, the depth mapping of the user's space is created to improve real-time Augmented reality (AR) applications.
The decrease in the use of rare earths helps to boost the company's mission of carbon neutral. In addition, the new iPhone 12 Pro Max has a battery life of up to 20 hours, which is comparable to the previous iPhone 11 Pro Max. 9To5Mac pointed out that this is also the model with the longest battery life of the current iPhone series.