Details

Category: Tungsten's News
Published on

Wednesday, 16 September 2020 21:39
Including tungsten, rare earths, lithium, and titanium, the European Union (EU) announced a revised list of critical raw materials (CRMs) to 30 items. In addition, in the report, the Commission clearly stated that it seeks to expand its supplier network and reduce its dependence on third-country supplies.
Raw materials are crucial to Europe's economy. They form a strong industrial base, producing a broad range of goods and applications used in everyday life and modern technologies. Reliable and unhindered access to certain raw materials is a growing concern within the EU and across the globe. To address this challenge, the European Commission has created a list of CRMs, which is subject to a regular review and update. CRMs combine raw materials of high importance to the economy and the high risk associated with their supply.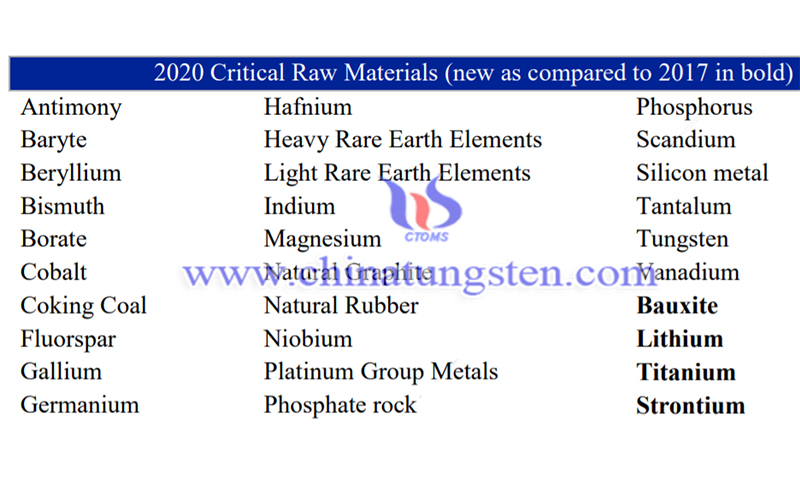 Since 2011, the EU has updated the list of critical raw materials every three years. Compared with the list updated in September 2017 (a total of 27 raw materials), the updated list on the 3rd removed helium, retained the remaining 26 raw materials, such as tungsten and rare earths, as well as added four new raw materials: lithium, strontium, titanium, and bauxite. Note: Given that the concentration of helium supply is still worrying, the European Commission will continue to pay attention to this raw material.
The announcement pointed out that these key raw materials have significant economic value and contain supply risks, which are related to the industrial layout and investment in research and development. The Vice President of the European Commission Maroš Šefčovič said that a secure and sustainable supply of raw materials is a prerequisite for a resilient economy. For e-car batteries and energy storage alone, Europe will for instance need up to 18 times more lithium by 2030 and up to 60 times more by 2050.
"As our foresight shows, we cannot allow replacing current reliance on fossil fuels with dependency on critical raw materials. This has been magnified by the coronavirus disruptions in our strategic value chains. We will therefore build a strong alliance to collectively shift from high dependency to diversified, sustainable and socially responsible sourcing, circularity and innovation". Šefčovič added.
The European Commission warned that due to the excessive dependence of EU member states on raw material imports, the epidemic is likely to damage key industries such as automobiles and new energy. The shortage of raw materials used to make batteries and renewable energy equipment may threaten the goal of achieving "carbon neutrality" by 2050.
In order to expand the supplier network, the EU also announced the "Action Plan on Critical Raw Materials", which plans to take 10 specific measures, including the European Commission will soon form a "the Critical Raw Materials Alliance" to convene all parties to discuss how to enhance the tungsten and rare earths industry.