Details

Category: Tungsten's News
Published on

Thursday, 23 July 2020 13:49
Rare earth market quotation in China: terbium oxide price continues to rise slightly while prices of europium oxide, neodymium oxide keep stable. Now market transactions are in a stalemate without support from the policy side.
Prices of most products in the light rare earth market have not fluctuated significantly for the time being. Downstream user demand is weak when the traditional consumption is off-season. In addition, due to the calming policy and the insufficient power of the new energy industry, the overall transaction volume is biased. In the medium and heavy rare earth market, downstream rare earth separation plants are relatively motivated to enter the market for inquiries and purchases. Under the relatively low supply of raw materials, suppliers are not reluctant to sell their products at low prices and some product prices have risen.
Prices of rare earth products on July 22, 2020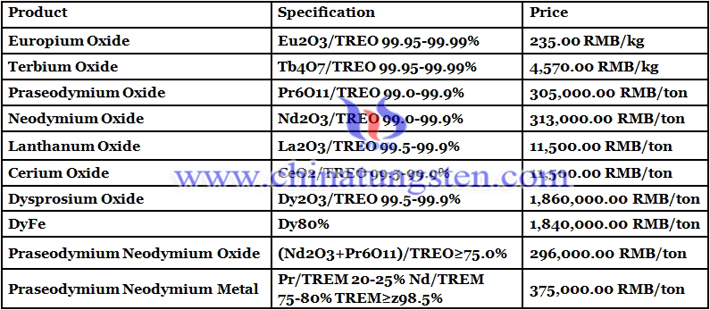 Picture of neodymium oxide
Follow our WeChat to know the latest tungsten price, information and market analysis.