Details

Category: Tungsten's News
Published on

Tuesday, 05 September 2017 15:38

Written by

shuxia

Hits:

65
Analysis of latest tungsten market in China from Chinatungsten Online: With the coming out of guidance price from Ganzhou Tungsten Industry Association and Zhangyuan Tungsten, tungsten market enters a wait-and-see atmosphere.
The monthly tungsten products guidance price released by Ganzhou Tungsten Industry Association will represent the current attitude of mainstream enterprises throughout the Ganzhou area and the long-term price from Zhangyuan Tungsten basically represents market spot price. Opening this week, rally in spot price continues, quotation from raw materials enterprises keeps rising and raw material shortages have no significant improvement.
Trading prices of tungsten products in spot market hit a record high again yesterday, which showed a little different with previous hike. In August, there is a significant disconnect in the price adjustment between tungsten concentrate and tungsten powder. But with coming of September, weak demand is improved. The price trend of tungsten concentrate, APT, tungsten carbide yesterday became more and more consistent.
The delivery of tungsten concentrate is limited and traders who have little overstock early days start delivery, making profits. According to the statistics, yesterday, the turnover of tungsten concentrate exceeded 100 tonnes and smelting tungsten ore production closed up USD 16,370 per tonne. The whole market has strong demand for tungsten concentrate, smelting factory or trade enterprises will accept orders as long as the price is reasonable.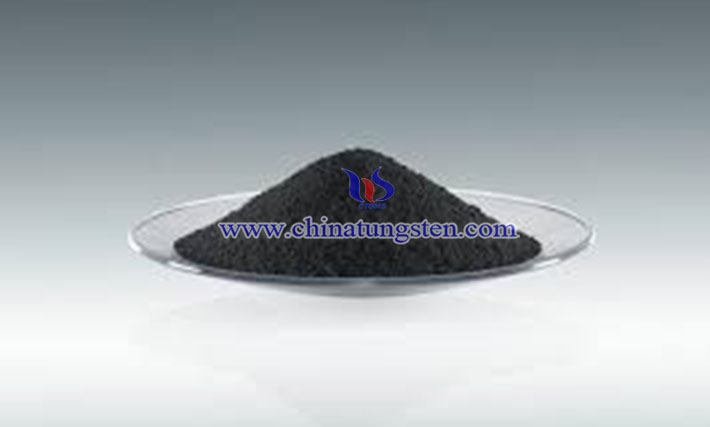 The quotation for APT remains in high level. The current quotation from mainstream smelters reaches USD 324 per mtu and cash transaction price is USD 321 per tonne. In yesterday, downstream enterprises increased their enquiry, but most smelters are reluctant to sell.
Major tungsten powder enterprises stepped up their pace in price adjustment. A large powder enterprise in Ganzhou quoted at USD 38.8 per tonne for tungsten carbide, other two large enterprises in Fujian and Guangdong also adjusted their price to USD 43.4. An insider said, the quotation for APT in Ganzhou will not less than USD 324 per mtu and tungsten carbide will not below USD 43.4 per tonne.
Comprehensive analysis: supply in the market is still tight. Some enterprises have three questions on the price rise. The first one is when the rally will stop, the other one is what risks they will cause, and the last one is when the supply of tungsten concentrate will recover? The upward trend of tungsten price will keep going and considering the limit of stocks, trade risks are limited. It is not likely to recover tungsten concentrate production completely in this year. We expect that tungsten price may hit record high this week.
Price of tungsten products on Sep, 5, 2017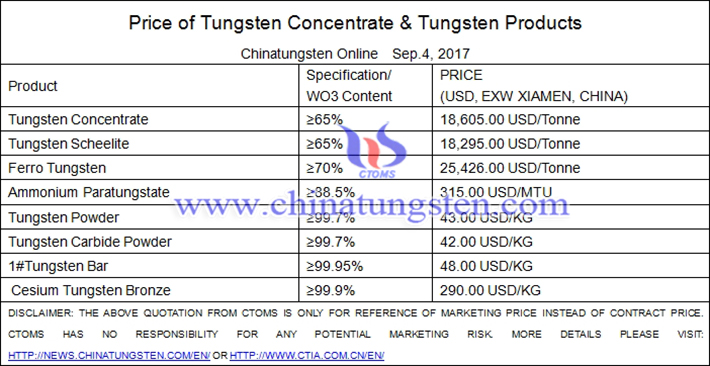 Joint our WeChat to know the latest daily tungsten price and information. With a high level of industry insensitivity and market analysis, you will better understand the tungsten market.
Tungsten Manufacturer & Supplier, Chinatungsten Online: www.chinatungsten.com
Tungsten News & Prices of China Tungsten Industry Association: www.ctia.com.cn
Molybdenum News & Price: news.molybdenum.com.cn
Tel.: 86 592 5129696; Fax: 86 592 5129797; Email: This email address is being protected from spambots. You need JavaScript enabled to view it.