Details

Category: Tungsten's News
Published on

Thursday, 17 November 2022 11:56
Analysis of latest tungsten market from Chinatungsten Online
China's tungsten powder and ammonium paratungstate (APT) prices are unchanged from the previous trading on November 15, 2022 as market participants are not active in trading.
On the one hand, due to the increasingly sluggish consumption of cemented carbide terminals during the repeated epidemics, buyers are mostly entering the market according to actual needs; on the other hand, insiders are worried about the loss of the right to speak of non-renewable strategic resources and the cost pressure under the background of inflation. In the short term, the market is expected to be in a stalemate with limited deals concluded.
In the tungsten concentrate market, miners and smelters are not willing to sale low-grade resources, and downstream end customers still negotiate prices on demand when taking goods. There are many negotiations on spot transactions in the market, and the market is tepid at about $15,882.4/ton.
In the APT market, smelters and traders still wait and see, and offers in the spot market generally refer to the long-term contract of large companies. According to the news, Xiamen Tungsten Industry's long-term contract price of ammonium paratungstate (APT) in the second half of November 2022 is $272.5/mtu, down $0.8/mtu compared with the first half of this month.
In the tungsten powder market, the alloy market is facing more low-quality supply, constrain logistics and transportation, increased export trade risks, and repeated epidemic risks. The pressure is constantly transmitted to the upstream, and the confidence of traders in the raw material tungsten powder and tungsten carbide market is weak.
On the macro front, the International Monetary Fund (IMF) believes that the global economic outlook is bleaker than it predicted last month, due to persistently high and widespread inflation, continued supply disruptions and food insecurity caused by the Ukraine crisis. In the future, the economy will also face more challenges such as worsening energy crisis, policy tightening and interest rate hikes, as well as increasingly serious global climate events.
Prices of tungsten products on November 16, 2022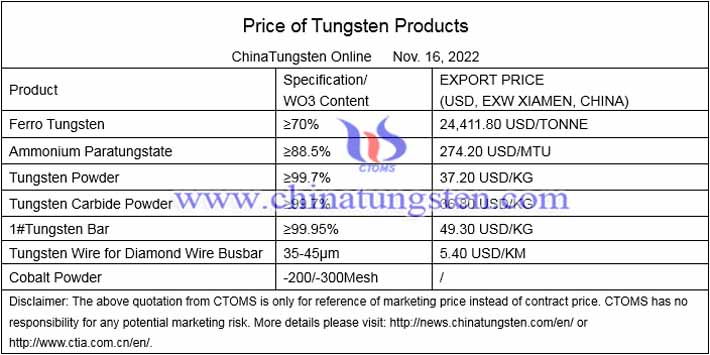 Picture of tungsten trioxide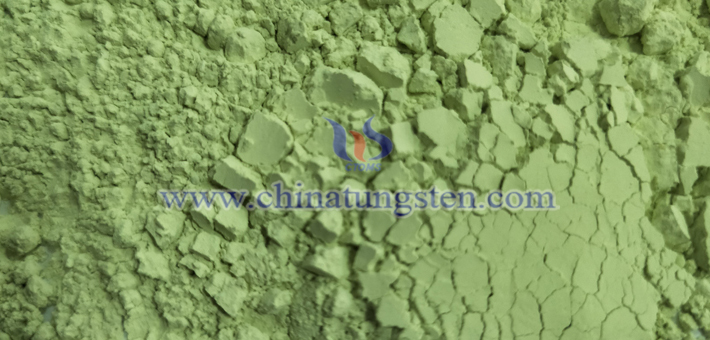 Follow our WeChat to know the latest tungsten price, information and market analysis.