Details

Category: Tungsten's News
Published on

Friday, 09 September 2022 16:11
China rare earth price declined at the beginning of the week and then increased near the weekend. At the beginning of the week, due to the lack of downstream demand and the slow growth of the global economy, the price focus of many rare earth products moved down slightly; affected by the rising awareness of profit, the prices of mainstream products stopped falling and rebounded.
In the light rare earth market, the market has gradually improved. In the early stage, due to the poor market demand, the reduction in the listed price of rare earths in the north in August, the 25% year-on-year increase in rare earth mining indicators this year, and the fall in commodity prices, the price of praseodymium and neodymium products fell sharply, approaching the cost line, which in turn forced the owners to increase their awareness of profitability. In addition, the continued spread of the epidemic in Inner Mongolia and the cancellation of the preferential electricity price policy in the region have made it difficult for rare earth manufacturers to produce, so it is conducive to the price increase of praseodymium and neodymium.
In the medium and heavy rare earth market, the on-site purchase and sales are relatively quiet. Although the consumption power of downstream users has been weakened due to the approaching Mid-Autumn Festival holiday, the high temperature and heavy rain weather, the unabated efforts to crack down on environmental protection, and the sudden outbreak of the epidemic in Ganzhou, Jiangxi have caused medium and heavy rare earths, it is difficult to increase the supply. The Ministry of Stacking and Information Technology should guide the prices of key products such as rare earths to stabilize, and holders of goods are less willing to sell at lower prices.
Prices of rare earth products on Sep. 9, 2022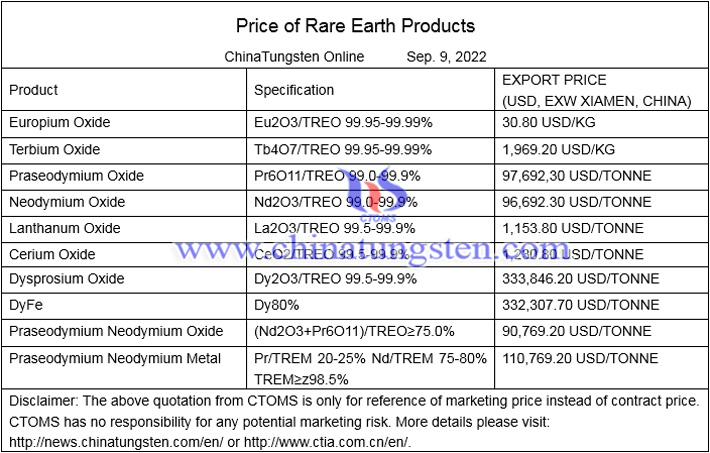 Picture of cerium oxide
Follow our WeChat to know the latest tungsten price, information and market analysis.