Details

Category: Tungsten's News
Published on

Wednesday, 03 August 2022 09:20
Analysis of latest tungsten market from Chinatungsten Online
At the beginning of the week, China tungsten price edged higher with the support of costs of raw materials as well as the rised mentality of sellers. The enthusiasm of smelters and intermediate traders for bottoming and rebounding has increased, and resources at low levels in the market have decreased. Mainstream tungsten product offers have been raised.
It is worth noting that the current market news has not been updated accurately. Under the uncertainty of the epidemic and the Russian-Ukrainian conflict, the market is still dominated by risk aversion. The pressure of global inflation and tightening monetary measures continues to plague the market. Therefore, the release of high-level transactions in the tungsten market is relatively limited, and there is no market.
In the tungsten concentrate market, the high temperature and flood season since the second quarter has restrained the production capacity release of mining enterprises to a certain extent, superimposed the cost pressure under the background of environmental protection and inflation, the overall market sentiment is mainly positive. The high-grade offer is adjusted to $17,384.6/ton.
In the APT market, with the cost support and the relief of the inventory pressure of enterprises after the production reduction and maintenance in the early stage, the manufacturers are relatively optimistic about the price increase. There are still many negotiations on the market.
In the tungsten powder market, cost drives powder manufacturers to increase their offers, but the consumption of downstream cemented carbide and its products is limited, and it is still difficult for the market to break through $40.0/kg. Although the industry is worried about the negative impact of the slowdown in consumption in traditional fields on tungsten products such as knives, they are optimistic about the demand for related metal tungsten products under the rapid development of the new energy field.
As the factors affecting the tungsten product market in the next two weeks still have many uncertainties, we do not recommend making a large number of purchases or stockpiling when the price trend is not clear.
Prices of tungsten products on August 2, 2022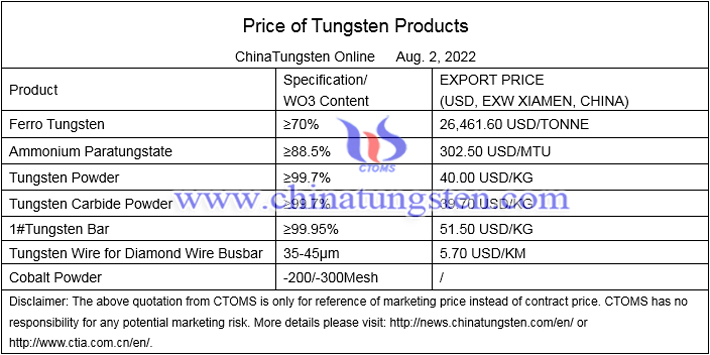 Picture of tungsten powder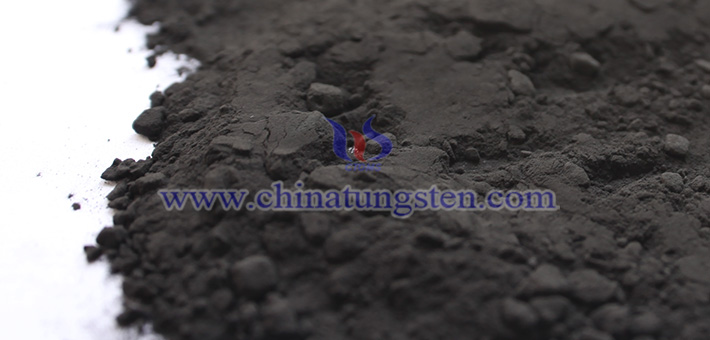 Follow our WeChat to know the latest tungsten price, information and market analysis.