Analysis of latest tungsten market from Chinatungsten Online
At the beginning of the week, China tungsten price maintains stability as market participants kept cautious sentiment. On the one hand, the cost of raw material smelting remains relatively high under the background of high inflation; on the other hand, market consumption is weak in the high-temperature weather and off season.
In the tungsten concentrate market, due to environmental protection requirements and miners' willingness to support the market, the supply of resources in the market is relatively tight, and the price of high-grade resource is trying to reach $17,230.8/ton. However, the high-level trading performance is relatively stalemate, and downstream customers have limited initiative to receive goods.
In the APT market, smelting enterprises are cautiously avoiding the risk of price inversion, the market operating rate is limited, and spot transactions are mainly negotiated on demand. The company's offer is adjusted to $295.5/mtu, waiting for the back-end consumption to follow up.
In the tungsten powder market, spot trading orders are mostly carried out according to rigid demand, and the cost support is strong. However, the pressure on the demand side still exists. Affected by the risk of overseas economic recession and the favorable domestic promotion fees, the market is in a stalemate and price hovers around $34.6/kg.
Prices of tungsten products on July 26, 2022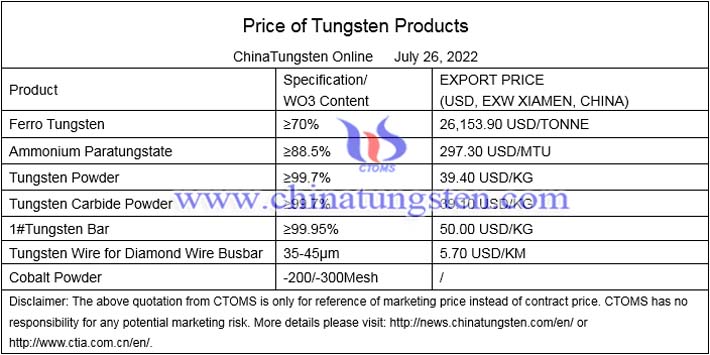 Picture of tungsten powder
Follow our WeChat to know the latest tungsten price, information and market analysis.