Analysis of latest tungsten market from Chinatungsten Online
At the beginning of the week, China tungsten price maintains stability as the market keeps quiet. Faced with the challenges of the epidemic, the conflict between Russia and Ukraine, and extreme weather events, market participants are mostly cautious, waiting for new guide prices from state-owned tungsten companies.
In the tungsten concentrate market, environmental supervision and lower resource grades have increased industry concerns about market supply. Worries about the COVID-19 and high inflation also support the market' rised mentality. However, the demand pressure since April has affected the negotiation in the spot market. At present, market liquidity was poor and concentrate price stalemates at about $16,615.4/ton.
In the APT market, the overall market sentiment is weak, and traders have poor expectations for a new round of price guidance. Although China's recent series of measures to stabilize growth indicate that the domestic economic environment and consumption momentum will show a positive trend in the second half of the year, the decline in APT price is limited and there is an opportunity for rebound. However, the current market supply and demand pressure is still obvious, traders are cautious to avoid the risk of inversion, and market price is weak at $290.3/mtu. It is worth noting that due to port congestion, overseas markets are more willing to wait for price rebound.
In the tungsten powder market, buyers have a high bargaining power, and the overall powder price is in the downward trend. The weak environment of the industrial chain has led to an increase in the risk aversion of the stockholders at the raw material side, some of which have appropriately reduced the operating rate, and the supply of raw materials has been adjusted to a tighter direction. However, the high temperature weather has restrained the release of demand, and the enthusiasm of buyers to take the initiative to receive goods is not high. Tungsten powder price is about $39.2/kg on June 20, 2022.
Prices of tungsten products on June 21, 2022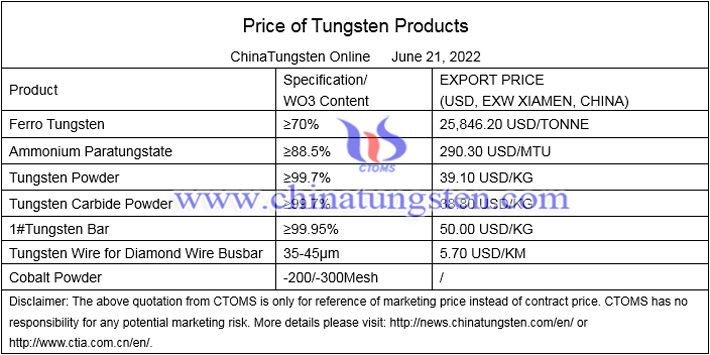 Picture of tungstate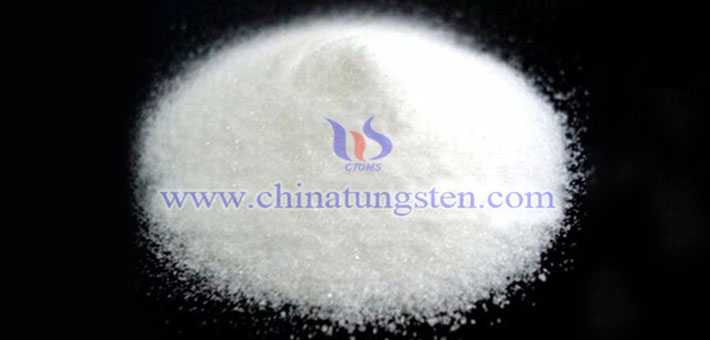 Follow our WeChat to know the latest tungsten price, information and market analysis.