Analysis of latest tungsten market from Chinatungsten Online
China tungsten price was in the downward trend in the week ended on Friday June 17, 2022 with the impact of continued weakness in the demand side despite of economy growth.
On the one hand, due to the impact of the epidemic and geopolitical conflicts, the circulation of the industrial chain was relatively slow; on the other hand, due to climatic factors such as high temperature and flood season, the market operation and consumption were in a low season. In addition, the weak cobalt price and bulk commodities affected trading activity of tungsten participants.
The tungsten concentrate price hovered around $16,923.1/ton with great pressure posed from the demand side; APT price stabilized at $290.3/mtu and smelting factories faced pressure of price inversion; tungsten powder price was about $39.2/kg with rare deals concluded.
On the macro level, (1) Fitch lowered its forecast for China's GDP growth in 2022 to below 4%, and expects the mainland's economy to rebound to more than 5% next year as the new round of the epidemic is largely under control. (2) The Federal Reserve raised interest rates by 75 basis points to a range of 1.5%-1.75%, the largest rate hike since 1994. The commodity market was therefore under pressure, and industry players were concerned about the support of China's demand recovery. (3) The conflict between Russia and Ukraine has affected the supply of energy and food. In May, the inflation rate in the European Union reached 8.1% at an annual rate, setting a record for seven consecutive months and setting a record since the introduction of the euro 23 years ago.
Prices of tungsten products on June 20, 2022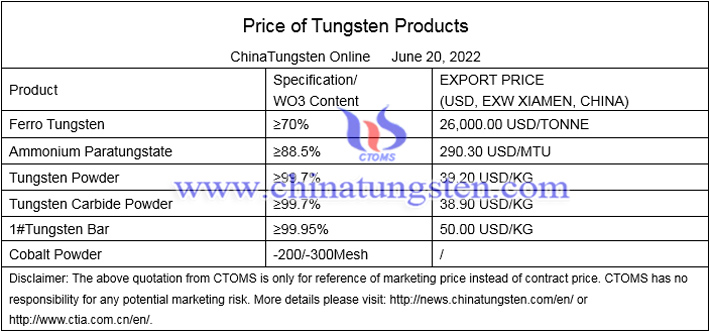 Picture of tungsten acid
Follow our WeChat to know the latest tungsten price, information and market analysis.