Analysis of latest tungsten market from Chinatungsten Online
At the beginning the of week, China's domestic tungsten price continues to remain stable because market demand and supply are in a stalemate, environmental protection and logistic constrained limit the supply of spot resources, and COVID19 and Russia-Ukraine conflict affect the upstream supply chain.
In the tungsten concentrate market, mining enterprises mainly take a watchful stance and focus on building the bottom. However, due to the poor follow-up sentiment on the demand side, traders generally have cash-out mentality in shipments, which affects the market focus and puts pressure on the market. In the short term, the price of high-grade tungsten concentrate is expected to be deadlocked at $18,709.7/ton.
In the APT market, the trading mentality on the market is sluggish, and traders are relatively cautious in entering the market. On the one hand, the prices of raw and auxiliary materials have gradually stabilized with the maintenance of market order and the measures to ensure supply and stabilize prices. However, it is still affected by repeated epidemics and global conflict; on the other hand, the recent epidemic has had a significant negative impact on the back-end alloy and chemical industries of tungsten products, affecting the enthusiasm of downstream users to receive APT. Therefore, the short-term APT price tends to stabilize at $322.6/mtu.
In the tungsten powder market, the sales data of the downstream cemented carbide industry is not yet clear, and the overall market sentiment is cautious and weak. Market price stabilizes at $44.4/kg, and participants are waiting the next move in the market.
Prices of tungsten products on May 10, 2022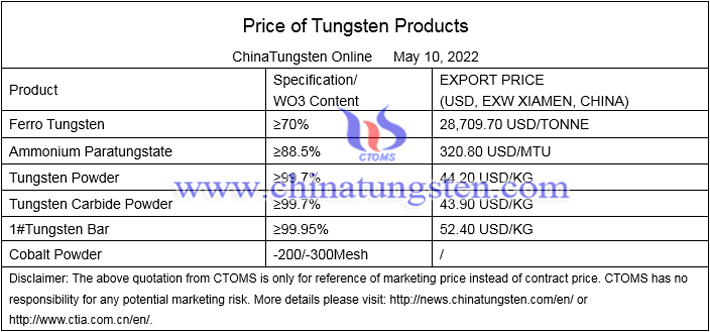 Picture of tungsten acid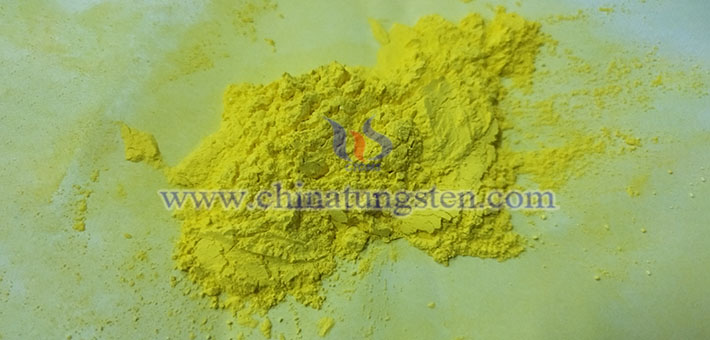 Follow our WeChat to know the latest tungsten price, information and market analysis.