Details

Category: Tungsten's News
Published on

Tuesday, 29 September 2020 18:46
Rare earth market quotation in China: the europium oxide and dysprosium oxide prices keep stable while praseodymium oxide price declines slightly on September 29, 2020 due to deadlocked supply and demand, and heavy wait-and-see atmosphere in the market.
Negative factors: first, the Mid-Autumn Festival is approaching, and many downstream users gradually reduce production and postpone purchasing time, resulting in a strong wait-and-see atmosphere in the current market; second, the uncertainty of the stock market, which makes it difficult for investors to operate and trade cautiously, thus affecting the consumer sentiment of traders to a certain extent; third, the weakness in the international market is hard to change, which has a great impact on the confidence of the domestic market.
Favorable factors: first, the environmental protection of rare earth industry will continue to be strict, which can bring a certain positive effect to the market, and revive the confidence of a small number of suppliers; second, due to the cost support, the quotation of mainstream mining enterprises is basically stable, and the willingness to cut profits is small, so as to avoid the risk of price inversion as much as possible.
Prices of rare earth products on September 29, 2020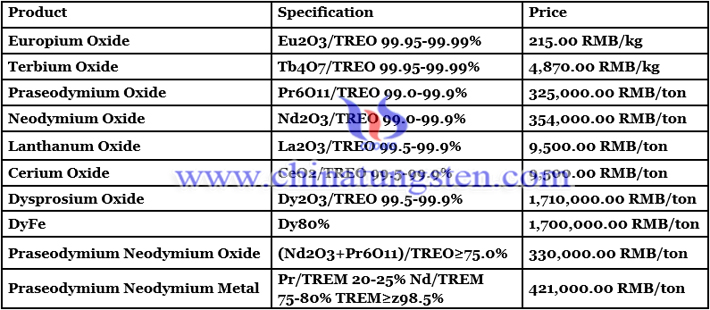 Picture of praseodymium oxide
Follow our WeChat to know the latest tungsten price, information and market analysis.