Details

Category: Tungsten's News
Published on

Tuesday, 20 August 2019 09:07
Rare earth market quotation in China: the neodymium oxide, praseodymium neodymium oxide and praseodymium neodymium metal prices climbed slightly on limited transactions and deadlocked supply and demand. At present, the magnetic materials industry is in the off-season. Downstream buyers are weak in taking orders, the actual trading is relatively poor, and the supply of goods in the market is slowly digested.
However, under the supervision of central ecological environment protection, the rectification of large-scale rare earth enterprises and the Sino-US trade consultation, market confidence has been boosted to a certain extent, the supply of raw materials has tightened, and the upstream mainstream separation manufacturers have slightly increased their sense of reluctance to sell. The industry is more concerned about the value of rare earth as a strategic reserve resource, as well as the rectification of the industry and the state of quality development.
Prices of rare earth products on August 19, 2019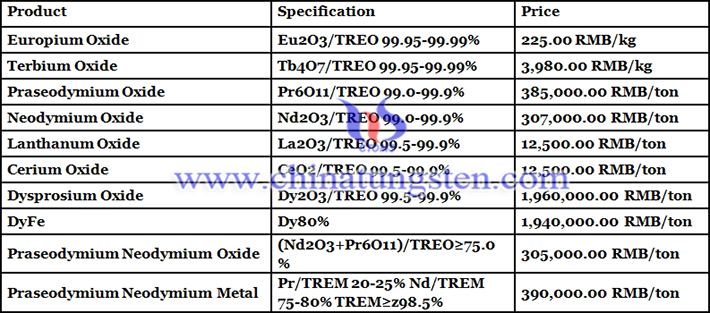 Picture of neodymium oxide
Follow our WeChat to know the latest tungsten price, information and market analysis.