Details

Category: Tungsten's News
Published on

Tuesday, 13 August 2019 08:48
Taking tungsten and rare earth's advantages, the new energy automobile industry chain has formed in Ganzhou city, Jiangxi province. Before years, due to the low level of technology and weak market prices of rare metals, short-term industrial development relies on "old" resources. The city aims to transfer economy industry and builds a New Energy Automotive Technology City.
Tungsten and rare earth industries are the pillars industries in the city, as the main battlefield for the city's industrial economy, how to accelerate the transformation and embark on new industrial development has become an urgent need. To this end, the city guides traditional industries into new kinetic energy industries, on the other hand, it adjusts the main direction of the industry promptly.
The city is committed to building a nationwide important new energy vehicle R&D and production base fully utilizes the resource advantages of tungsten and rare earth and relies on industrial foundations of permanent magnet motor, power battery, and intelligent electronic control to take new energy automobile industry as the leading industry.
On August 6, the GX5 vehicle of Guoji Zhijun Automobile Co, Ltd 's pure electric vehicle SUV was launched in the New Energy Automotive Technology City of Ganzhou Economic Development Zone. At the same time, the products of Kama Automobile were put into production and released new products, which is the milestone for 100 billion industrial clusters of new energy vehicle chains.
As the leader of China's machinery and manufacturing industry, China National Machinery Industry Corporation Ltd (Sinomach), invests 8 billion yuan to build an annual production capacity of 300,000 new energy vehicles. The project took only 44 days from signing to start and quickly obtained the qualification of new energy vehicle production, which became a vivid epitome of the old enterprise's development in a revolutionary state.
As a wholly-owned subsidiary of Sinomach, China Hi-Tech Group Corporation is a leader in China's commercial vehicle segment. Its Kama Automobile invested 1.5 billion yuan to build an annual output of 100,000 new energy vehicles and light trucks and micro-cars. The project opened a new page in the production of commercial vehicles.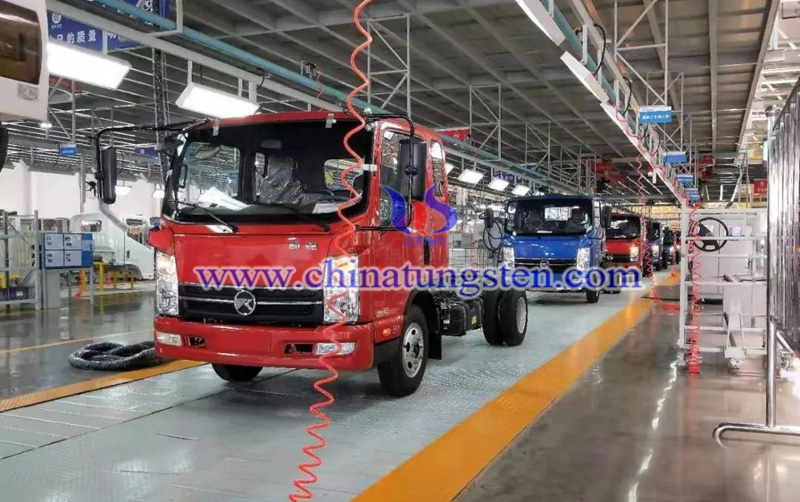 At present, Ganzhou has signed a total of 23 settlement projects with a total investment of over 80 billion yuan. It has initially formed a complete industrial chain of "complete vehicle + parts + R&D + inspection + automobile culture", with the leading companies such as Guoji Zhijun Automobile Co, Ltd, Kama Automobile, and Farasis Empowering Innovation, the annual production capacity of existing industrial projects has reached 1 million vehicles, 32.3GWH lithium battery and 100,000 new energy vehicle motors, and the annual revenue from the main business is over 100 billion yuan.
In the development of the new energy automobile industry, the advantages of Ganzhou have become increasingly apparent. At the same time, projects such as the construction of New Energy Automobile Technology City have been included in the key projects of Jiangxi Province.
Today's Ganzhou, relying on the natural tungsten and rare earth energy sources, is now actively implementing the relevant policies of government to support the development of the new energy automobile industry.