Details

Category: Tungsten's News
Published on

Wednesday, 21 September 2022 09:26
Analysis of latest tungsten market from Chinatungsten Online
At the beginning of the week, China tungsten price continues its stability when the market is in a stalemate.
On the one hand, domestic economic recovery and demand stabilization measures are conducive to the growth of consumption in infrastructure, real estate and other fields; on the other hand, global inflationary pressures continue to increase, and expectations of interest rate hikes in major overseas economies continue to heat up, disrupting the industry's capital and demand side.
The uncertainty of the external environment of the market remains, and the trading on the market generally maintains a cautious attitude. While the cost side supports the relatively stable raw material market, it also brings obvious upside pressure to the middle manufacturers. The tungsten market is expected to be quiet in the short term and participants will mainly focus on the new guide prices from listed tungsten companies.
At present, 65% tungsten concentrate price stands at around $18,000.00/ton; APT price is about $307.7/mtu; tungsten powder price stabilizes at $41.1/kg. The orderly restoration of production and life in Chengdu is conducive to the recovery of local cemented carbide enterprises' business activities. However, the pressure on the logistics due to the spread of the epidemic still needs to be eased. In the context of high global inflation, alloys and their downstream consumption are still restrained, and the market continues to consolidate.
In terms of macroeconomics, data from the Bureau of Statistics shows that in August, the added value of industries above designated size increased by 4.2% year-on-year, 0.4 percentage points higher than the previous month, and a month-on-month increase of 0.32%; the total retail sales of consumer goods was 3,625.8 billion yuan, a year-on-year increase of 5.4%; 1-8 In January, the national fixed asset investment (excluding farmers) was 36710.6 billion yuan, a year-on-year increase of 5.8%. In August, the national urban surveyed unemployment rate was 5.3 percent, down 0.1 percentage point from the previous month.
Prices of tungsten products on Sep. 20, 2022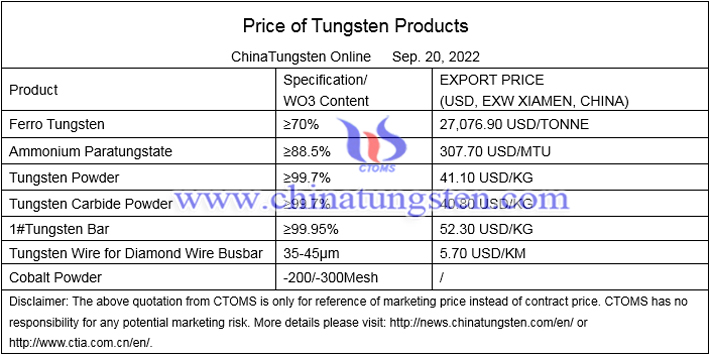 Picture of ammonium paratungstate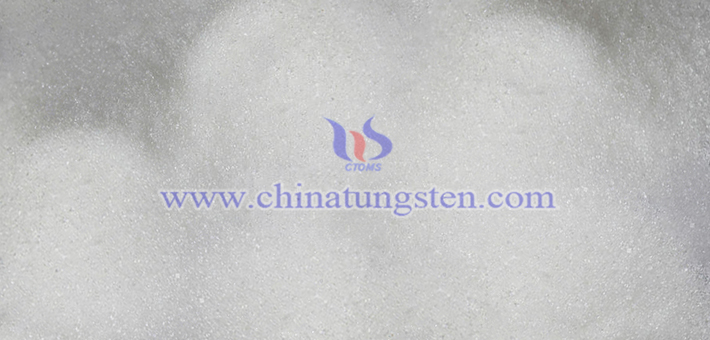 Follow our WeChat to know the latest tungsten price, information and market analysis.