Analysis of latest tungsten market from Chinatungsten Online
China's domestic tungsten price was in the downward trend in the week ended on Friday, May 13, 2022 due to the demand concerns caused by the epidemic and the financial pressure caused by the changing external environment.
The tungsten market was stuck in strong macro expectations but actual weak demand. Although factors such as environmental protection supervision, global inflation pressure, post-epidemic economic recovery, increased demand for infrastructure, and the expansion of China's manufacturing share are expected to drive the steady development of the tungsten market in the future in terms of supply, cost, demand, economy, and technology, it is hard to ignore that the domestic epidemic has had a huge impact on the supply chain of automobile and equipment manufacturing.
Although the process of resumption of work and production is accelerating, it is difficult for the demand for tungsten products in the related industrial chain to fully recover in May. In addition, the recent slump in the trend of bulk commodities has also intensified the industry's concerns about the complex macro environment. The tungsten price, which was driven up by costs and expectations, has plummeted in the quarter, and it has basically returned to the level before the Spring Festival.
Prices of tungsten products on May 16, 2022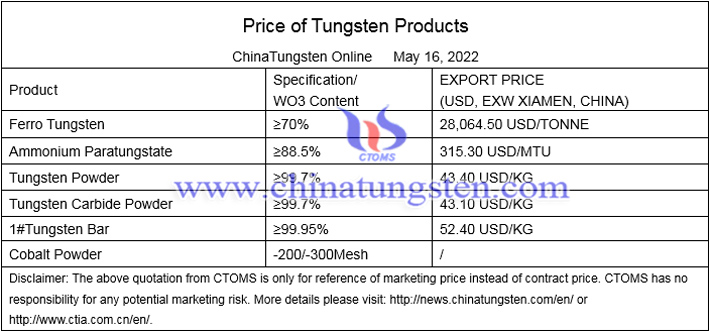 Picture of tungsten acid
Follow our WeChat to know the latest tungsten price, information and market analysis.