Details

Category: Tungsten's News
Published on

Thursday, 20 January 2022 20:53
BacTech Environmental Corporation, a commercial environmental technology company providing effective and eco-friendly biomining and remediation solutions, today announced its intention to investigate the use of bioleaching as a tool in liberating rare earth elements (REEs).
In recent months, expectations have been high for bioleaching metallurgical extraction of rare earth elements as media reports indicate that the U.S. is actively seeking measures to end its dependence on imports of key metals and minerals from China. REEs are classified as a strategic element by the U.S. government and the Pentagon has issued a request for proposals to explore bioleaching technology with the goal of establishing a domestic industry that would provide stability in REE supplies.
From U.S. national security and energy transition plans to maintain supply chain continuity for medical and consumer technologies and many other everyday products, rare metals are considered essential.
Ross Orr, President and CEO of BacTech Environmental, said, "The U.S. government has made it clear that it is uncomfortable with China controlling 90% of the global supply of rare metals. We are expanding our investigation of the potential for bioleaching in this high demand region with the goal of providing adaptive technologies and cleaner and cheaper alternatives for REE processors."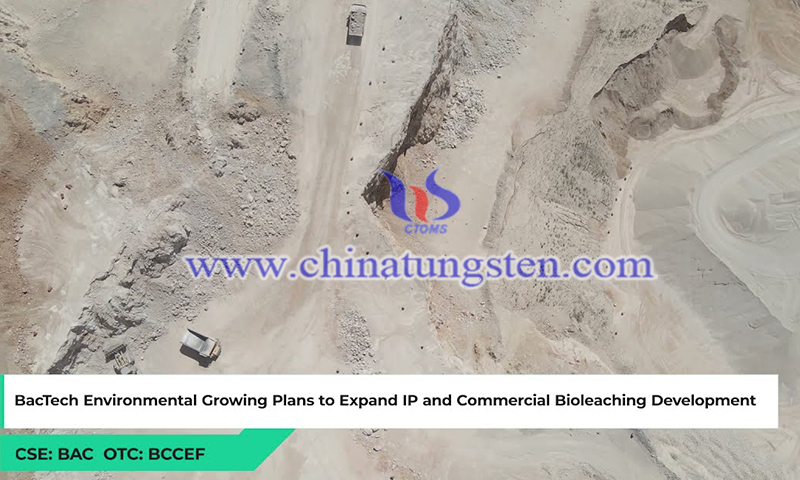 Conventional rare metal processing typically uses the harsh chemical environment of concentrated acids or bases at high temperatures to extract rare metals from a variety of minerals. In contrast, the use of bioleaching offers potential advantages because the complex nature of rare metal minerals provides multiple target points for microbial activity to release valuable metals, including rare metals. Bioleaching also represents a more natural and environmentally acceptable processing method than conventional processing methods.
Conceptual downstream processing of rare earth element solutions produced by bioleaching would be similar to existing downstream operations involving the separation and purification of individual elements from the liquid. Therefore, bioleaching is proposed to replace one of the leaching extraction steps in the current rare metals process.
Three different groups of organisms are considered as potentially useful candidates in the extraction of rare earth elements. To date, aerobic autotrophic bacteria have shown a strong ability to decompose various mineral substrates and their potential application in the extraction metallurgy of complex REE minerals will be explored in priority.
BacTech fully recognizes that bioleaching processing may not be suitable for all REE projects due to differences in mineralogy. The company will look for materials from REE projects that have mineralogy that is considered most suitable for bioleaching processing.
BacTech intends to return local miner compensation back to previous payment levels, prior to a sweeping price reduction imposed by Chinese buyers due to recent import levies on arsenic/gold concentrates entering China. BacTech Environmental is planning to build a new owner-operated bioleaching facility near Ponce Enriquez, Ecuador.
BacTech is an established environmental technology company that provides effective and eco-friendly biomining and remediation solutions for commercial operations to process and recover preferred metals (gold, silver, cobalt, and copper), intelligently and safely remove harmful contaminants such as arsenic and convert them into benign EPA-approved products.