Details

Category: Tungsten's News
Published on

Thursday, 15 October 2020 09:21
Analysis of latest tungsten market from Chinatungsten Online
The tungsten powder and cesium tungsten bronze prices remain weak adjustment as continued spread of Covid-19, geopolitical risks and US election offer many uncertainties for the market. Most market participant prefer to take a watchful stance at present.
Now the main advantage of the tungsten market lies in the production cost of raw materials, as well as new demand brought by the recovery of domestic economic indicators and the deployment of downstream infrastructure, 5G and other industries. However, judging from the weak market in the peak season of the "Golden September", the overall market demand is still low.
In the short term, tungsten concentrate is expected to stabilize at $13,076.9 per tone but the market may have price but no sales; the APT price keeps stable at $22.5 per mtu and factories may face pressure of price inversion; tungsten powder purchases will continue to seek for lower prices and sellers tend to keep price at about $30.8 per kilogram.
The World Bank recently released the economic report for East Asia and Pacific region, which raised China's economic growth forecast for this year from 1% to 2%; in addition, based on positive factors such as the advent of vaccines and continued economic recovery, China's economy is predicted to grow by 7.9% in 2021. CNN in the United States calculates based on data from the World Bank that China's share of global GDP may rise by about 1.1 percentage points by the end of this year. CNN predicts that the total value of China's economy will reach US$14.6 trillion by the end of 2020, roughly equivalent to 17.5% of global GDP.
Prices of tungsten products on October 14, 2020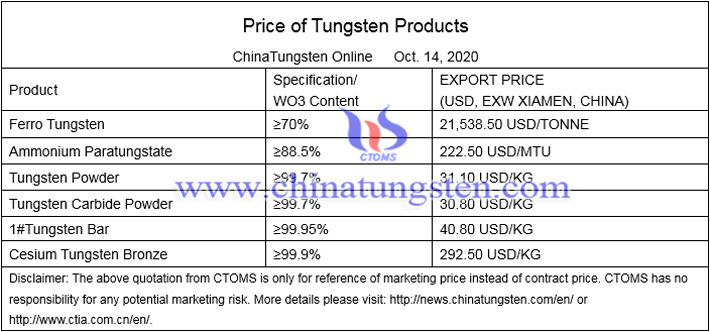 Picture of tungsten trioxide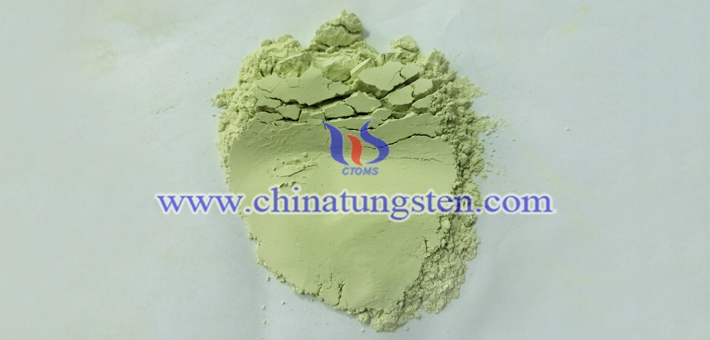 Follow our WeChat to know the latest tungsten price, information and market analysis.