Details

Category: Tungsten's News
Published on

Wednesday, 15 January 2020 14:14
Can Apple turn into a "mined" company by recycling metals such as tungsten and rare earths in the iPhone? The company owns a factory in Austin, Texas, where workers' main task is not to produce new equipment but to "destroy" old iPhones that have been recycled from around the world.
They are only part of Apple's recycling project. Lisa Jackson, the company's vice president of the environment department, recently spoke to Reuters about future goals, hoping that one day the company can break away from its dependence on mining and achieve self-sufficiency in production.
When Ai Faner visited the company's Texas plant in April last year, he reported that many traditional recycling processes have adopted non-standard manual dismantling methods, which not only causes pollution but also that the purity of many metals after melting and melting is not high enough to meet the requirements for reproduction.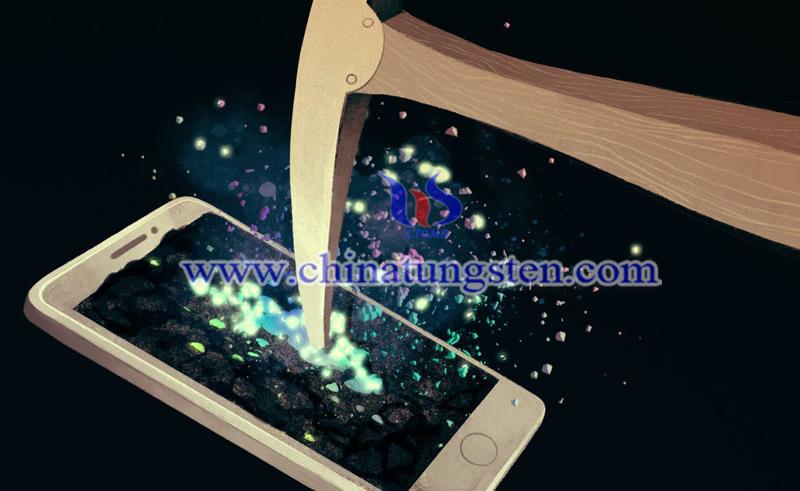 Because of this, as early as 2016, Apple announced the self-developed iPhone recycling robot Liam. This is a device with a huge robotic arm that can separate the iPhone 6 components one by one like "peeling fruits" and send them to a designated recycling area, reducing the chance of different types of metals contaminating each other.
In 2018, the company also launched an upgraded version of the "Daisy" robot. Now it has been able to automatically recognize 15 iPhone models. On average, it can disassemble up to 200 iPhones per hour. It can also process materials that cannot be recycled by traditional recycling agencies, such as tungsten in the vibration motor of the iPhone, which further improves recycling breadth and ratio.
In recent years, the company has put the "old for new" posters on the official website's homepage or offline stores, to encourage users to sell old iPhones to it, so that they can get a new device at a lower price.
Now, the company has classified and evaluated dozens of elements and raw materials that may be used in the production of equipment. Some of them do have the possibility of recycling and reuse, and the demand is large. For example, tin and aluminum, the company often sends the disassembled components to an upstream recycling plant and have them return the processed raw materials.
But there are also some raw materials such as rare earths, which themselves use in a very little amount, and traditional institutions can't achieve technical recycling. Apple can only develop new technologies to solve them. As for plastics, the company will seek new materials to replace them.
Since 2017, the company has used 100% recycled tin solder on the motherboards of all iPhones, Macs, and iPads, which has made it less than 29,000 tons of tin ore mined in 2019. In 2018, the company introduced MacBook Air and Mac mini models with 100% recycled aluminum bodies, some of which were recycled from the iPhone.
Last year, the vibration motors in the iPhone 11 and iPhone 11 Pro series were also made of 100% recycled rare earth elements.
In December 2019, the company also purchased the first "carbon-free aluminum'' from Alcoa Corporation and Rio Tinto. In the official presentation, the company emphasized that this will bring revolutionary progress to the global aluminum metal manufacturing industry.
Recycling aluminum is already a relatively mature field in the industry. The problem is those rare elements, such as tungsten and rare earths. Although they are used in small amounts, most institutions can't recycle them. Tom Butler, chairman of the International Mining and Metals Council believes that Apple may be the only company in the industry with the confidence to achieve the 100% self-sufficiency goal.