Details

Category: Tungsten's News
Published on

Friday, 29 November 2019 14:11
Huawei Sound X rare earth magnetic unit smart speaker promulgated on November 25 at the full-scene product press conference in Shanghai. Unlike traditional smart speakers, Huawei's HiFi smart speaker co-engineered with the international professional audio company Devialet. Fitted with the Devialet 60W dual rare earth strong magnetic woofer, holds a small body, but the shocking power stored in the small structure could bring users high-resolution low-frequency experience.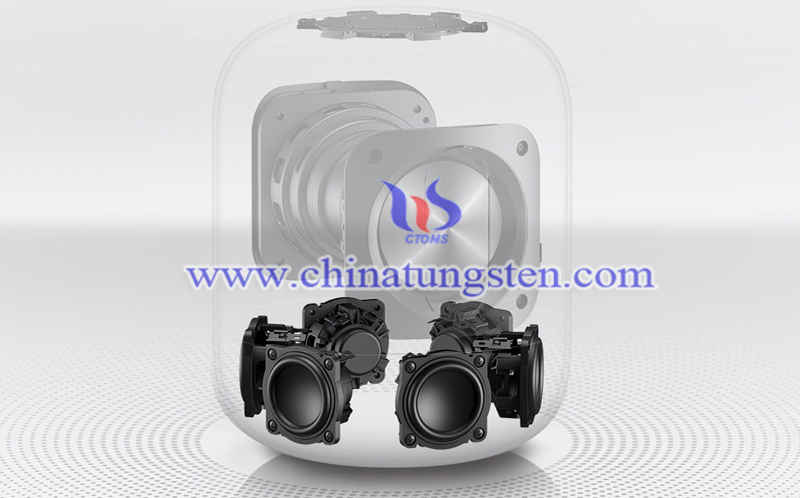 Power is a quantifier that represents the energy the speaker outputs. For speaker products, the greater the power, the higher the sound pressure it could bring, the wider sound coverage and the more explosive sound released. Guess many people have experienced that when the portable speaker is used in a small room and a large room, the sound in the small room will be significantly fuller. This is generally caused by the insufficient sound pressure of the speaker. As for the 60W loudspeaker in Huawei Sound X, it meets the needs of users who require high sound pressure levels in broad environments.
Compares to Homepod's 30W bass power, the power of Huawei Sound X is doubled. Throughout various price speakers within ten thousand RMB, it is hard for a small-sized speaker to achieve a low-frequency power output of 60W. For this, Sound X is the "smart new HiFi species" beyond doubt in the speaker field.
Huawei Sound X uses the high-magnetic NdFeB rare earth material that often fitted in high-end speakers. Compared with ordinary ferrite materials, this speaker owns stronger magnetism and would bring greater thrust to the diaphragm. For Sound X, which is equipped with NdFeB material, the amplitude is as high as 20mm. When playing high-pitched music in high volume mode, the powerful woofer even slakes the light of the candles. This is the high-level low-frequency manifestation of rare earth strong magnetism.
For ordinary consumers, the dual rare earth strong magnetic speaker of Devialet equipped in Huawei Sound X could bring shocking hearing, vision, and tactile all-round sensory impact, allowing users to enjoy a smart life while enjoying a shocking sound experience. For high-end amateurs, Sound X can meet the pursuit of HiFi-grade sound quality, realizing the new combination of HiFi grade sound quality and intelligent interaction. As the high-fidelity dual-bass smart speaker for the first time, Sound X is undoubtedly a new choice for the smart speaker market of combining sound quality and smart experience.