Details

Category: Tungsten's News
Published on

Monday, 09 September 2019 09:18
"Longyan Rare Earth Industry Matchmaking and Investment Promotion Meeting" held in Xiamen on September 7, On the same day, 7 rare earth industry investment projects were successfully signed with a total investment of 1.52 billion yuan, and the enterprises from Xiamen, Shanghai, Wuhan, Guangdong and Hong Kong, according to CNR report on September 8.
Rare earth honored of "industrial vitamin" is a strategic resource in China, it is widely used in electronics, laser, medical, aviation, superconducting and other fields. According to report, Fujian Province's ion-type rare earth resources ranks in the top three in domestic, Longyan is an important production area on accounting for more than half of production for Fujian Province. At present, the government implements unified management of resource development, establishes a mechanism of "government-led control, centralized separation, and benefit-sharing" and promotes the construction of industrial parks.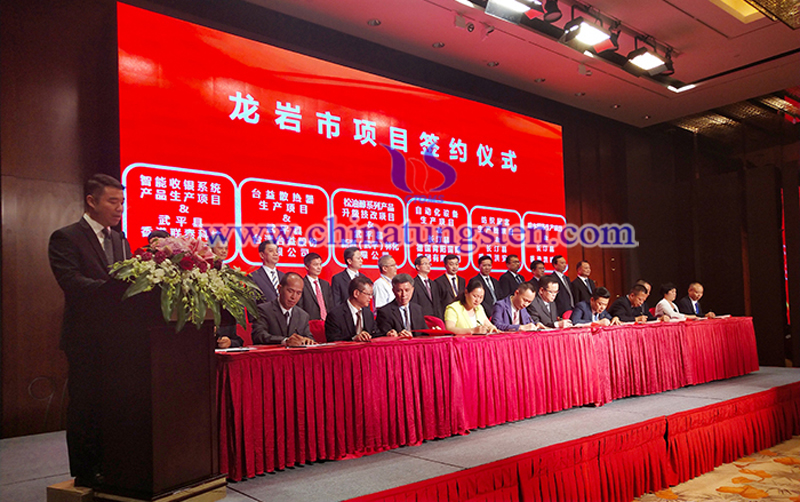 Weize Xu, secretary of the Longyan Municipal Party Committee, delivered a speech at the meeting and introduced the market situation and economic and social development of the City. He said that the city is not only a red holy land, Hakka ancestral land but also an ecological blessed land and a pioneering land. In recent years, the economic, social, and rural construction has continued to develop rapidly. The city has a good location, abundant resources, ecological beauty, excellent policies, and solid industry. The development is full of vitality and business opportunities are everywhere.
"We invested more than two billion yuan in Changting for carrying out the first project." Changgeng Huang, chairman of Xiamen Tungsten Co., Ltd (referred as XTC) said the investment in rare earth resources not only promotes local economic development, but also breaks the foreign technical monopoly, and solving the card neck project. "XTC has taken root in the old revolutionary area in recent years. XTC will certainly inherit the fine traditions, implementing new duties and build new dragon rocks on the red soil", he added.
At the promotion meeting, the City is committed to the development of deep processing industry chain and launched 15 investment projects including high-speed aluminum alloy wire and cable, air-conditioning compressors, high-speed train traction motors, wind turbines, electric vehicle drive motors, and automobile exhaust gas purifiers. At the same time, the Longyan Municipal Party Committee and the Municipal Government have formulated a series of preferential policies, including factory subsidies, fiscal and tax incentives, equipment and talent subsidies, financing support, patents and brand building, as well as "one enterprise and one policy" for major investment projects.
At the signing ceremony of "Longyan Rare Earth Industry Matchmaking and Investment Promotion Meeting", there were 34 on-site contracted projects signed, including 2 framework cooperation agreement projects, 7 rare earth industry investment projects with a total investment of 1.52 billion yuan, and a total investment of 8 billion yuan for the national mobile communication equipment manufacturing industry project, 24 foreign-funded projects with a total investment of 1.06 billion US dollars.