Details

Category: Tungsten's News
Published on

Tuesday, 03 September 2019 18:07
Analysis of latest tungsten market from Chinatungsten Online
The European APT prices moved lower in the week ended Friday August 23, weighed down by bearish sentiment ahead of the late-August auction for the entire antimony stock held in the defunct Fanya Metal Exchange. Meanwhile, the Chinese APT export price was stable amid market uncertainty.
Tungsten concentrate prices again stable amid inactivity. Ferro-tungsten market in Europe flatlines in thin trading European APT prices slide; Chinese APT prices under pressure and Fastmarkets assessed the price for tungsten APT 88.5% WO3 min Europe, cif Rotterdam duty-free, at $195-205 per metric tonne unit (mtu) on August 23, down by 2.4% from a week earlier. The price is now at its lowest level since mid-February 2017, when the assessment last stood at $195-205 per mtu. Prices continued to come under pressure as buyers considered lower offer prices for material to be shipped to Rotterdam from China while facing no immediate requirement for prompt units.
Prices of tungsten products on Sep. 3, 2019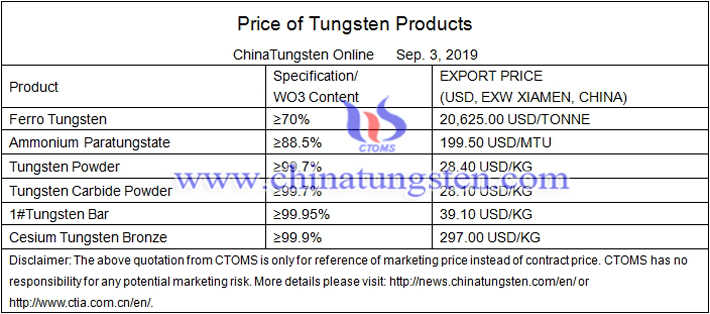 Picture of tungsten powder
Follow our WeChat to know the latest tungsten price, information and market analysis.