Analysis of latest tungsten market from Chinatungsten Online
China tungsten prices continued to decline in the week began on Monday July 1, 2019. Although raw material manufacturers raised their rised mentality under output cuts of large enterprises, the market was pressed by persistent weakness in the demand side, high inventories and unclear outlook.
Tungsten concentrate supply is expected to be tighter over the next two months as heavy rains in Jiangxi province have reduced production by around 20pc, according to major tungsten producer Jiangxi Tungsten. Operations at the firm's Dajishan, Piaotang and Xialong mines have all been affected by the rains. Jiangxi Tungsten's concentrate production costs have risen to RMB90,000/t, leading to a sharp fall in spot trading activity as Argus assessed spot prices for 65pc grade wolframite concentrate at only RMB77,000-79,000/t yesterday.
Domestic cemented carbide production is forecast to remain stable in 2019, according to China's nonferrous metals industry association, with 8,300t produced in the first quarter of 2019, down by 3.5pc from a year earlier. China produced 38,500t of cemented carbide in 2018.
Tungsten demand for the production of alloy materials used in the military, aviation and nuclear energy industries has risen this year, according to tungsten producer Antai Tianlong, which appealed to other producers not to cut prices by too much to attract sales as consumers in these downstream markets need a stable feedstock market.
Demand from the cutting tools sector, which accounts for 30pc of tungsten consumption, is expected to fall this year as consumption of cutting tools in the consumer electronics industry is expected to decline by 30-50pc from a year earlier because of slower economy growth and the US-China trade dispute.
Prices of tungsten products on Jul. 5, 2019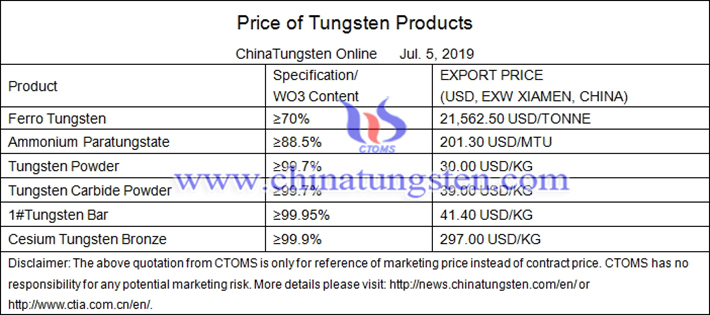 Picture of tungsten powder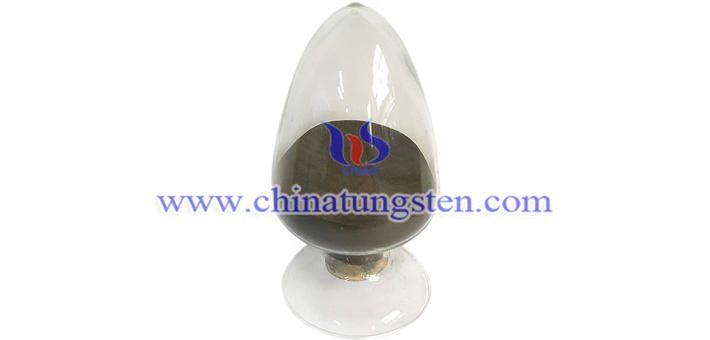 Follow our WeChat to know the latest tungsten price, information and market analysis.