Details

Category: Tungsten's News
Published on

Friday, 12 October 2018 18:20
Analysis of latest tungsten market from ChinaTungsten Online
Chinese tungsten prices have been temporarily stable, and the market has a strong mentality. However, the demand-side block factors are still obvious. Purchasers are hesitant to enter the market and holders are reluctant to sell at low prices. At present, the tungsten spot market maintains a small amount of just-needed transactions, with interval high quotation as the main factor. Market speculation and risk factors coexist, and the trading atmosphere is cautious.
In the tungsten concentrate market, environmental protection, cost and long-term growth of large companies have boosted the spot mentality. Holders are more willing to explore, and the raw material market atmosphere is slightly more active than downstream. Tungsten ore is tightly supplied at low prices, but terminal demand The release rate is slow, and the downstream consumption of high-level resources remains to be seen. The overall trading atmosphere of the market needs to be further followed.
In the APT market, the price of raw materials and the price increase at the beginning of the month have injected some confidence into the manufacturers. In addition to the environmental protection situation and the rising demand of the enterprises, the APT price is currently consolidating at a high level, but the downstream and the middleman receive the goods the operation is not much, careful wait-and-see. Merchants price willingness encountered resistance, with the main purchase and sales.
In the tungsten powder market, the demand side performance is not good, and the acceptance of the price of the raw material end is limited. The market cautious wait-and-see atmosphere is strong, and the multi-production pre-orders are mainly for the first time. Fortunately, the cost-side price performance slightly boosts the business mentality. The enterprise's expectation of rising mentality has also increased, the short-term tungsten powder prices have been temporarily stable, and the dealers have been deadlocked.
Prices of tungsten products on Oct. 12, 2018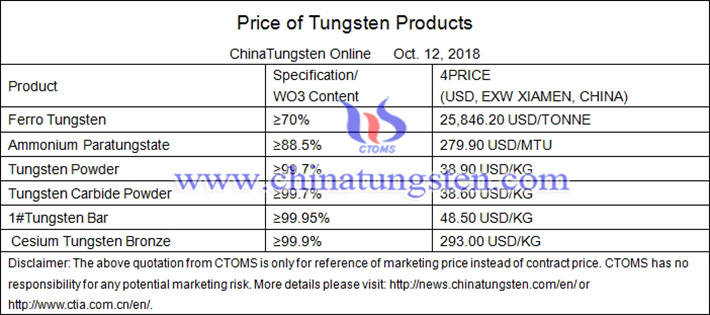 Picture of blue tungsten oxide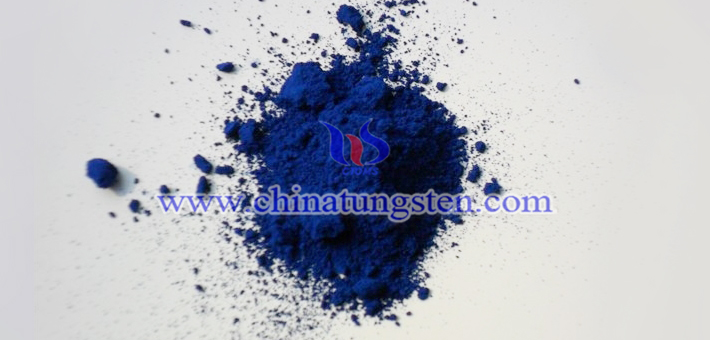 Folow our WeChat to know the latest tungsten price, information and market analysis.