Details

Category: Tungsten's News
Published on

Thursday, 11 October 2018 17:54
Analysis of latest tungsten market from ChinaTungsten Online
During the double-segment alternation, the market holiday atmosphere is strong. Under the condition that the external trade environment is uncertain and terminal demand situation is difficult to judge, the market purchase and sale operations are generally cautious and wait-and-see, and China tungsten market has not changed much.
In general, the stable operation of raw materials has a support for the industry's mentality, but the depressed atmosphere on the demand side is not easy to dissipate. The risks in the market still exist, and the trader operation is still conservative.
In the tungsten concentrate market, the mines have more market attitudes, the cost side support is maintained, and the stocks of the holders in the environmental protection situation are not high, and the mentality is on the sidelines. The overall performance of tungsten concentrates is stable, hindering the demand for back-end demand. Poor performance, lack of growth in downstream factory receipts, market supply and demand situation is still relatively tight, purchases and sales basically maintain a light pattern. The trading atmosphere is calm.
In the APT market, industry confidence is still affected by the depressed atmosphere of the demand side, but the price of the large-scale long-term quotation position of 158,000 yuan / ton is supported by the willingness of the upstream of the industrial chain, and the procurement of raw materials at low prices is more difficult. The pace of manufacturers' price cuts has gradually slowed down. Before the National Day, markets wait-and-see atmosphere full-bodied, offer temporary stability.
In the tungsten powder market, it is difficult for terminal enterprises to have a good performance in order quantity, which affects traders and product enterprises still dare not purchase raw materials without delay. The wait-and-see atmosphere waits for a strong atmosphere, and the cost side has support. However, the market is not buying enough, and the overall demand is maintained. Traders followed the operation of the city, and the price of tungsten powder stagnated.
Prices of tungsten products on Oct. 11, 2018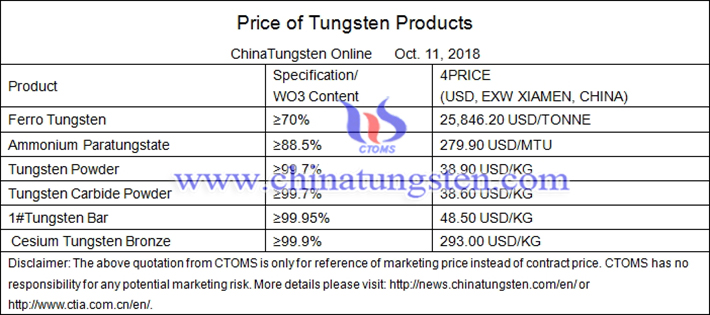 Picture of tungsten carbide powder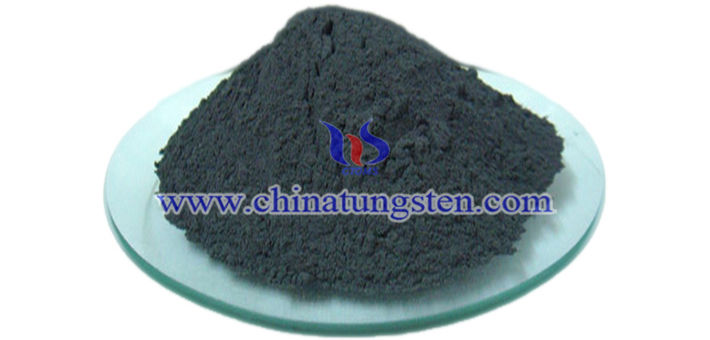 Folow our WeChat to know the latest tungsten price, information and market analysis.