Analysis of latest tungsten market from Chinatungsten Online: Chinese tungsten price maintains stability on little fundamental changes and tight supply of tungsten ores. The demand side remains cautious on purchasing and the new guide prices mean a conservative attitude of large tungsten enterprises toward the current market. Short-term tungsten market will continue the current trend.
The average prices in June for wolframite concentrate stand at $17,983.9/t, down $161.3/t month-to-month; APT is $324.4/mtu, up $9.1/mtu from May; medium partial tungsten powder is $45.2/kg, up $0.8/kg compared with last month, according to the latest news from Ganzhou Tungsten Association.
In the tungsten concentrate market, downstream factories are uncertain for the time of recovery and both supply and demand sides are under pressure. But affected by the environmental protection checks, miners would cost high on replenishing, coupled with positive expectation on the late demand after factories recovery, traders reduce their willingness in cutting product prices. Tungsten concentrate price now hovers around $18,064.5/kg.
APT price has been maintained stability after the rise in May because terminal demand is weak, trading volumes is thin and businesses remain cautious on receiving orders. The uncertain time for the recovery of smelting factories would make the supply tight in the short term.
Tungsten powder price climbs to $45.2.kg supported by high production costs, but it is difficult to continue to rise as terminal enterprises cannot accept high-price tungsten raw materials completely and new orders of manufacturers reduce. Traders grow wait-and-see mood.
Prices of tungsten products on Jun. 08, 2018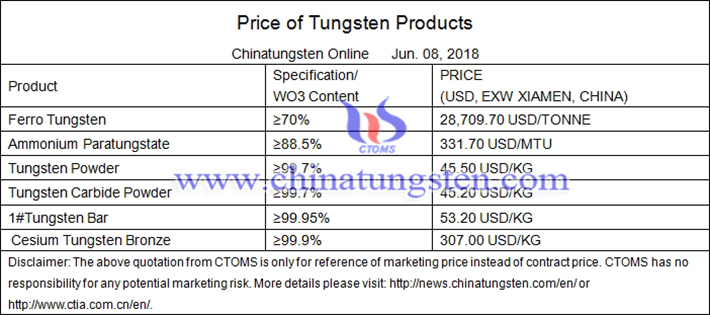 Picture of tungsten trioxide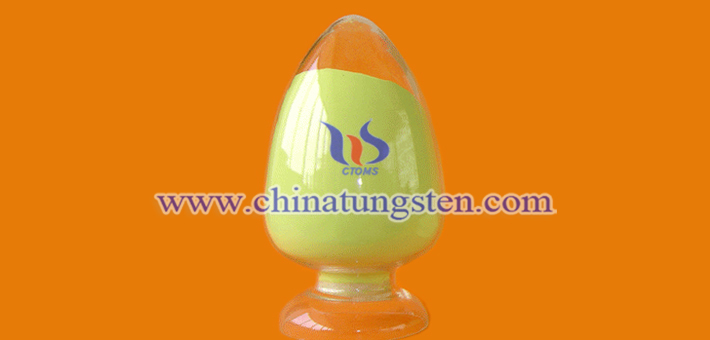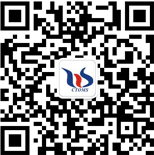 Folow our WeChat to know the latest tungsten price, information and market analysis.