Details

Category: Tungsten's News
Published on

Wednesday, 01 November 2017 16:26
Analysis of latest tungsten market in China from Chinatungsten Online: Sluggish performance in the tungsten market at the end of the October, mainly affected by the new round of guidance prices that will soon be released by large tungsten enterprises and associations. The trading vitality in the whole industry continues to be low and the whole market is caught in heavy wait-and-see atmosphere. The current tungsten products price stabilizes while trading volumes basically become blocked.
It is hard to make a deal at high price and purchase at low price in the tungsten concentrate market. As the afternoon market remains uncertain, both sellers and buyers act cautiously. Sellers are more reluctant to sell as present while downstream smelters mainly resupply their stocks when price is at low level. Tungsten concentrate prices are hard to rebound without the support of favorable policy. 65% wolframite concentrate quotes at $15,814 per tonne to $16,124 per tonne and 60% scheelite concentrate ranges from $15,503 per tonne to $15,814 per tonne.
APT market remains quiet. The quotation for APT in Jiangxi province maintains in $277 per mtu to $280 per mtu. The rare low price of raw material supports APT manufacturers, but downstream enterprises have no willing to purchase, thus APT manufacturers only have little profit margins. Facing firm raw material prices in the upstream market and weak demand in the downstream market, APT manufacturers mainly wait and see.
Tungsten powder market is weak with great pressure. Downstream alloy and tungsten manufacturers are still lowering purchase prices and under the less new orders, most manufacturers make concession, the actual transaction price more focus on the floor quotation. The quotation for tungsten carbide ranges from $39 per kilogram to $39.5 per kilogram; tungsten powder price falls to $39.4 per kilogram to $39.8 per kilogram.
Comprehensive analysis: Domestic tungsten market is mainly at a stalemate although the pace of decline has been slowed down. There have divergences on the late market trend. Some insiders continue to keep their bearish view as the market lack of confidence. While some believes it will stabilize as the current market price is on the bottom. The cost of raw material gives support at the bottom of tungsten prices, if the lower raw material price is unavailable, downstream manufacturers will not easy to reduce price for shipments. Therefore, tungsten products price may have limited fluctuant ranges.
Price of tungsten products on Nov. 01, 2017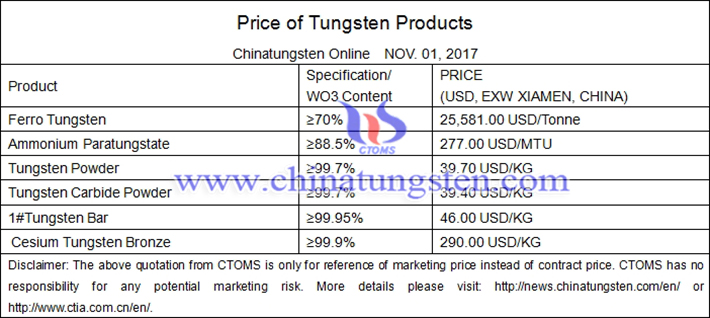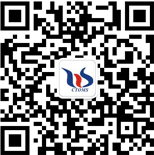 Folow our WeChat to know the latest tungsten price, information and market analysis.