As a member of transition metal oxides, tungsten oxide (WO3) is an indirect bandgap n-type semiconductor material with a band gap of 2.2-2.8eV. It has good absorption of visible light, so it is a very promising semiconductor photocatalyst. However, at present, there are many methods to prepare tungsten trioxide, which have poor controllability and difficult to grasp the photocatalytic performance.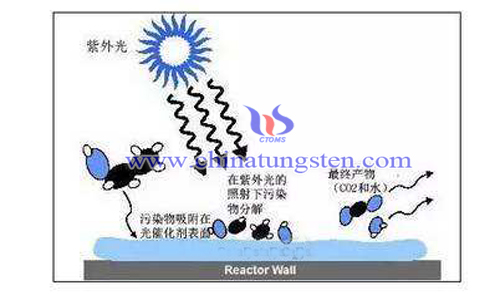 Some scholars have proposed a preparation method of tungsten oxide photocatalyst with high performance. The main processes are as follows:
Step 1: Sodium tungstate is added into deionized water and dispersed by ultrasound to form a solution of 0.01-0.03 mol/L.
Step 2, the solution of step 1 is slowly dripped with hydrochloric acid solution until it is completely dissolved and sealed for 3-5 hours to obtain a yellowish liquid.
Step 3: Tungstate light yellow colloid was obtained by filling the column with cationic exchange resin in turn.
Step 4: The light yellow tungstate colloid is put into the rotary evaporation device for vacuum distillation, and the light yellow concentrate is obtained.
Step 5: Polyvinylpyrrolidone was added to absolute ethanol to form 0.1-0.5g/L viscous alcohol solution, and then added to yellowish concentrated liquid to obtain tungstic acid alcohol-water mixture.
Step 6: Second vacuum distillation of tungstic acid alcohol-water mixture is carried out to obtain the second concentration solution.
Step 7: Anhydrous methanol was added to the secondary concentration solution to form a mixed alcohol solution. Then the mixed alcohol solution was put into the electrolytic reactor for 10-15h sealed pressure electrolysis reaction. After filtration, the highly active tungsten oxide photocatalyst was obtained.
The prepared tungsten oxide photocatalyst is illuminated by 365 nm ultraviolet lamp and visible light source for 1-5 h in turn. The illumination condition is constant temperature and humidity. The photocatalyst after illumination keeps its activity. It has good photocatalytic performance not only in the ultraviolet region, but also in the visible region.