The pair won through from a field of almost 200 players at Hull City Hall to claim two of the four BDO qualifying places on offer, with a further two spots to be decided at the European Qualifier later this month.

Fordham was the 2004 Lakeside Champion and is also a former World Masters champion who also had a two-year stint on the PDC circuit, but celebrated his return to form by securing his place at the Wolves Civic for the Sky Sports-televised event from November 7-15.

Fordham defeated Ivy Weishlow, Craig Robertson and Neil McDougall in the early rounds before knocking out Canada's Jeff Smith - a Lakeside Championship semi-finalist in January - in the last 32.

He then overcame Wales' Tim Jones to reach the last eight and edged out Northern Irish pair Darren Clifford and Neil Duff with 5-4 victories to seal his Wolverhampton spot.

American ace Butler, meanwhile, overcame former Grand Slam of Darts champion Scott Waites 5-3 in their decider as he won a place in the 32-player tournament.

He began the day with wins over Barry Copeland, Steven Warnock, Paul Green and Sean Fisher before then knocking out top seed Glen Durrant 5-4 in the last 16.

He also went all the way to a deciding leg against Wayne Warren before his victory over Waites saw him progress to Wolverhampton.

American ace Butler famously won the World Matchplay back in 1994 and is more recently a World Cup of Darts representative for the USA alongside Darin Young.

The duo join BDO stars Scott Mitchell - the reigning Lakeside Champion - Martin Adams, Martin Phillips and Geert De Vos in the SINGHA Beer Grand Slam of Darts, with the final two BDO qualifying places to be finalized.

Tungsten darts become the most popular darts among professional players, because tungsten darts are made of high-density metal, so they can be smaller than darts with other material. Besides, tungsten darts have delicate knurling, which make them worthy of being collected.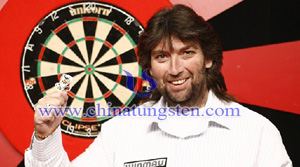 Tungsten Dart Manufacturer & Supplier: Chinatungsten Online - http://www.chinadart.com/
Tel.: 86 592 5129696; Fax: 86 592 5129797
Email: sales@chinatungsten.com
Tungsten & Molybdenum Information Bank: http://i.chinatungsten.com
Tungsten News & Tungsten Prices, 3G Version: http://3g.chinatungsten.com
Molybdenum News & Molybdenum Price: http://news.molybdenum.com.cn