Jenkins was joined by sixth seed Dave Chisnall, who looked impressive on his way to victory over Irishman William O'Connor.

Chisnall took a 3-0 lead before O'Connor stopped the rot by winning three of the next four legs, but sixth seed Chisnall kept his composure and averaged 99.34 as he closed out a 6-3 win.

Fourth seed Ian White was made to work for victory by rising Belgian star Dimitri Van den Bergh, finally prevailing 6-4.

The first four legs were shared before Van den Bergh broke with a 121 checkout, only to be immediately broken back by White, for whom a 108 finish to hold throw in the ninth leg proved decisive with the youngster ready to pounce.

Another player in the world's top ten, Robert Thornton, avoided an upset by defeating Maik Langendorf 6-3, sealing victory with a 127 checkout.

Thornton seemed to be having few problems dealing with the European Qualifier as he took a 3-1 lead, but Langendorf showed what he was made of to roll off back-to-back legs and draw level before the Scot re-asserted his superiority.

Young Dutchman Benito van de Pas was the first man to book his place in the last 16 after he defeated Croatian number one Robert Marijanovic 6-4.

Marijanovic hit a 170 checkout on the way to a 3-1 lead and also weighed in with four 180s but he spurned 15 darts at a double and van de Pas dug deep to edge ahead in the ninth leg before checking out tops for the win.

Brendan Dolan produced the comeback of the session, ousting Mark Walsh in a deciding leg in a clash where both players struggled throughout.

With averages hovering around 80, Walsh found himself 4-0 up before Dolan finally secured a dart at a double, taking out 101 to register on the scoreboard.

Walsh responded in kind with a 101 finish of his own to move a leg from victory but spurned three clear darts at tops in leg seven as Dolan finally broke the throw and then made his opponent pay by reeling off the last four legs to justify his status as fifth seed.

Justin Pipe, who won the Austrian Open three years ago, ensured he would be in action on Sunday by seeing off the challenge of Tony Newell.

Pipe landed a 170 finish to take the sixth leg and his superior experience proved telling as he held his nerve in the decider, kicking off with two 140s to edge through 6-5.

The European Darts Matchplay concludes on Sunday at the Olympiahalle in Innsbruck with the last 16 in the afternoon and last eight onwards in the evening.

Most professional players would choose tungsten darts to get a high score in matches, for the reason that tungsten darts have high-density and wearing-resistant characters.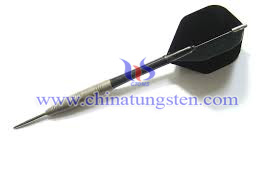 Tungsten Dart Manufacturer & Supplier: Chinatungsten Online - http://www.chinadart.com/
Tel.: 86 592 5129696; Fax: 86 592 5129797
Email: sales@chinatungsten.com
Tungsten & Molybdenum Information Bank: http://i.chinatungsten.com
Tungsten News & Tungsten Prices, 3G Version: http://3g.chinatungsten.com
Molybdenum News & Molybdenum Price: http://news.molybdenum.com.cn